New Mimaki JFX200-2531 to offer larger printing area and improved productivity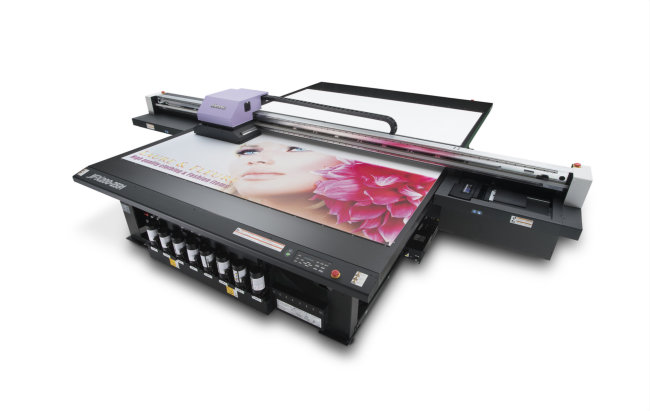 New Mimaki JFX200-2531 offers increased bed size and productivty
Mimaki has announced a forthcoming addition to its popular and much-lauded JFX200 product family. The JFX200-2531 LED UV flatbed printer builds on the success of the JFX200-2513 model with a significantly increased printing area and greatly enhanced productivity.
The current JFX200-2513 has been enthusiastically embraced by the market since its launch just over two years ago, with Mimaki stating that it is now responding to feedback from customers seeking the same market-leading performance, but with a larger print table. The new JFX200-2531 meets that requirement with a print area twice the size of its predecessor and a unique "toggle print" function that increases productivity and improves continuous running capability by allowing operators to load one board while another is printing.
The new, large flatbed UV-curable inkjet printer is compatible with media up to 2.5 x 3.1 metres, increasing the application range to accommodate large signs, wall decorations, doors and other large items. It can also accommodate two signage boards of the popular 1,220mm × 2,440mm (4ft × 8ft) size, allowing print companies to benefit from the added productivity enabled by the toggle print function, making the JFX200-2531 the ideal flatbed printer for growing sign and display companies.
Commenting on this latest development, Stuart Cole; National Sales Manager – Industrial Products for Hybrid Services Ltd; Mimaki's exclusive distributor in the UK and Ireland, says,
"This is a really positive development of the JFX range and yet again demonstrates Mimaki's commitment to listening to its customers and delivering products that meet their ever-changing needs. I'm certain that this new model will have huge appeal to signmakers whose businesses are expanding, diversifying and are now looking for greater output capability." With availability anticipated in early 2017, the new JFX200-2531 will be offered through Hybrid's network of specialist industrial products resellers.
Additional features of the new JFX200-2531 include improved media handling and an ionizer that eliminates electrostatic discharge which can affect image quality. Anti-banding functions and variable dot printing also contribute to the creation of smooth, exceptionally high-quality images. Finally, a vacuum pedal is now included as standard for hands-free operation of the media vacuum function.
A wide range of inksets are also available to accommodate the broadest range of applications, including LH-100 scratch resistant ink, LUS-120 and LUS-150 inks suitable for printing on soft materials, LUS-200 ink which is ideal for outdoor applications with its superior resistance to sun, rain and other adverse weather conditions and LUS-350 ink; a unique, stretchable ink suitable for a wide range of thermoforming applications, with the ability to stretch up to 350% without cracking.
More details about Mimaki's entire line-up, including its full range of printers and inks, can be found at www.hybridservices.co.uk