Installs HP Scitex FB500 industrial printer

to offer white ink on rigid graphics.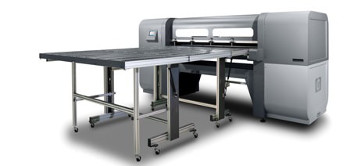 Coloursonic has installed an HP Scitex FB500 Industrial Printer to add a white ink capability to its direct-to-rigid substrate printing capacityLondon based Coloursonic, a full service graphics provider, has installed an HP Scitex FB500 Industrial Printer in order to accelerate graphics production by adding a white ink capability to its direct-to-rigid substrate printing capacity.
The company offers services from consultancy and design to installation virtually anywhere in the world using either its own teams or working with established partners. Coloursonic's output covers a broad spectrum of solutions which includes banners, exhibition graphics, corporate interiors, POS retail displays, roll-up and pop-up stands, lightbox signage, window graphics, event branding, TV and film backdrops, hoardings, corporate interiors, wallpaper and vehicle wraps.
"While we had great capabilities, what we were not able to do was print in white direct to rigid substrates," said Michaela Chandler, owner, Coloursonic. "We had the opportunity to work on an extremely large job comprising more than 500 differing items ranging in size from one to three metres in length. The ability to print high-quality graphics using white ink, direct-to-substrate, led us to believe that the HP Scitex FB500 would be the best printer to do the job."
Coloursonic bought the HP Scitex FB500 Industrial Printer at FESPA 2013 in May and it was in production by the first week of July. HP reseller CWE Solutions of Chessington, Surrey, installed the printer, and work on the important job started almost immediately.
"The HP Scitex FB500 is user-friendly and versatile, making it a pleasure to work with," added Chandler. "We had allocated a month to complete the work, but we completed it in two weeks, giving us capacity to handle additional work. The white print capability is remarkable and allows us to offer exciting new options: for example, we have just finished printing on stained glass windows for a film set. The ability to print on both flexible and rigid substrates gives us an added degree of production flexibility and enables us to make big time savings. Eliminating the process of laminating graphics to rigid materials enables a more efficient use of manpower and ultimately increases our throughput."
Ideally located about ten minutes away from London's in-town exhibition venues, Coloursonic often receives urgent requests for event and show graphics, so the company is used to working to tight deadlines. The HP Scitex FB500 Industrial Printer can print direct to rigid substrates at speeds up to 7 m2/hr for indoor applications and up to 7.9 m2/hr for jobs to be viewed outdoors. The white ink option (1) enables easy production of white text and logos.
"In the short time we've had the HP Scitex FB500, we've printed on acrylic, Kappa, Foamex, Dibond®, corrugated board and glass mirrors," continued Chandler. "We're not really sign makers, but we've been fulfilling requests for them, so that might be a new market we can explore further."
Coloursonic's maintains that it is the company's combination of high-quality print, versatile and up-to-date equipment, reliable logistics and the ability to coordinate long-distance deliveries and installations which has fostered long-term loyalty from customers, resulting in mutual growth.
"These are retailers we began working for when they had two or three shops in London, and are now international brands with up to 150 stores," explained Chandler. "With the new HP Scitex FB500 and our existing HP Latex 850(2) Printers, we are able to meet requests efficiently and cost-effectively. We think HP has the right approach to the large-format graphics market and we've been very pleased with how easy the printers are to use, and with the final results."
(1) Use of white ink requires the purchase of the HP Scitex FB500 White Ink Upgrade Kit.
(2) Formerly known as the HP Designjet LX850 Printer
More information is available at www.youtube.com/hpgraphicarts

Follow us on Twitter - @DigiPrintNews
Like us on Facebook www.facebook.com/DPNLive - (click the 'LIKED' button/top of page as well)
Copyright © 2013, DPNLIVE – All Rights Reserved.