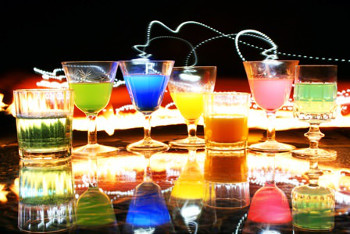 Vibrant images achievable with Sihl Direct's Vivalux backlit media for Latex printers
Widespread acceptance from the marketplace
for high quality media
Recently, Sihl Direct UK announced that its PolySOL media is now shipping in the UK and Ireland and has received widespread acceptance from the marketplace. The satin finished, water fast polyester film for solvent and latex inks comes in two thicknesses which the company said is ideal for roll up and pop-up-systems and displays. Sihl highlighted the fact that its resistance to high temperatures mean it provides an ideal solution for HP Latex printers.
"Thanks to PolySOL's grey back, the media has nearly 100 per cent opacity making it ideal for free-standing applications," said Ian Turnbull, Operations Director for Sihl Direct UK and Ireland. "The excellent flatness allows this media to be used for a wide range of signage, advertising and POS applications. The innovative coating and its bright whiteness lead to a quick drying time and a wide colour gamut with Eco-, Mild- and True-Solvent inks as well as Latex inks for HP Latex printers."
But who is this new entrant to the large format digital printing industry and how is a new company behind such innovative thinking?
While Sihl Direct UK is a new company, its holding company Sihl, owned by the Diatec Group in Italy, has a 110-year history and a product range that is already familiar with most people in the industry. Sihl Direct began trading this year and Ian Turnbull is the man responsible for getting it all up and running. As well as the UK, Sihl Direct is supporting Ireland from its offices near Manchester and is encouraging end users and resellers to contact them for more information.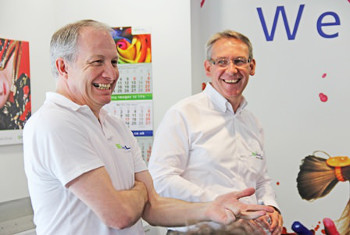 Ian Turnbull, Operations Director of Sihl Direct UK and Heiner Kayser, Managing Director of Sihl Sihl is already well-known in the inkjet printing market as a leading provider of coated media through OEM, distribution and reseller channels. The company has a reputation for quality, consistency and reliability but was aware that many of its end users didn't even know they were using a Sihl product. In order to address this situation and to take more control over its own destiny, Sihl Direct was established to service the large format printing market directly, with Sihl manufactured and branded media, through both selected partners and directly to the end user.
Despite setting up this business from scratch, Sihl Direct has the backing and full support of The Diatec Group, a multi-million pound international corporation. Its long term strategic goal is to strengthen the position of its product and corporate brands to a broader audience.
The task of getting the business up and running is down to Turnbull, with support from head office in Duren, Germany. Its Altrincham office includes a showroom and a 700 m2 warehouse, the location of which allows Sihl Direct to reach approximately 80 per cent of the UK population within a three hour drive thanks to the excellent motorway connections throughout the country.
The Manchester office has a small but dedicated local team, supported by several hundred people across Europe and the USA and is looking to grow as the business develops.
Turnbull added, "I am very confident in Sihl Direct's products. Our broad range of coated media for aqueous, solvent and UV-curable printers is of exceptional quality and this can make a huge difference to the overall viewing experience for printed output."
Products now available from Sihl Direct include a wide range of specialist materials for most wide format inkjet printers and ink technologies, such as canvas, vinyls and films as well as a comprehensive stable of photo base papers for high quality photographic and fine art reproductions. Its aqueous, inkjet photo paper range includes Maranello Foto Paper PE glossy 198 g/m². This is a Microporous SuperDry coated paper, based on a premium opaque white double-sided PE coated true photo paper with instant drying is especially suitable for laminating.
Sihl Direct's Maranello photo papersSihl Direct highlighted its TriSolv multipurpose papers for outdoor billboard advertising with maximum impact. These are multi-layer coated, water- and outdoor resistant, high white papers, which have been specially developed for solvent as well as UV curing inks. Sihl Direct said that these are considered the industry standard for this application.
The company also plans to expand its product ranges into new markets. One particular area of interest is that of canvas solutions. It has recently announced an inexpensive canvas for art reproduction, Clara Beneficial white 350 matt 3579. Targeted at the volume and cost sensitive marketplace, this canvas is ideal for bespoke art reproduction for private homes and commercial areas such as hotels and conference rooms.
Sihl Direct maintains it has the manufacturing capability to deliver very high quality materials and substrates with high service and support levels at cost-effective prices. Resellers and end users looking for the best quality at great value are encouraged to get in touch with Sihl Direct to discuss their requirements and discover what the company can offer.
As a special offer for Digital Print News,
Sihl Direct is offering readers a 10 per cent discount on its Maranello Foto Paper PE glossy 198 g/m²,
when this article is mentioned.
Please call Ian Turnbull on 0044 (0) 161 927 9051.
E-mail: This email address is being protected from spambots. You need JavaScript enabled to view it." mce_' + path + '\'' + prefix + ':' + addy23181 + '\'>'+addy_text23181+'<\/a>'; //-->

Copyright © 2012, DPNLIVE – All Rights Reserved