Bordeaux will unveil its UV, solvent and dye sublimation printer specific inks.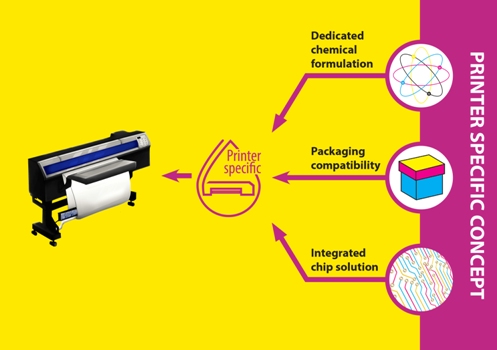 Bordeaux - The printer specific inks concept
Bordeaux Digital PrintInk, a leading manufacturer of original inks and coatings with its leading resellers in Latin America – PAPEL and ESS, will showcase printer specific solutions for Océ Arizona, Fujifilm Acuity, Roland, Mimaki, Mutoh, and Epson digital printers during FESPA Mexico (E40) August 20-22.
On the stand, visitors will witness the quality and outstanding colors of the dye sublimation and ECO Solvent inks. The demonstrated inks are printer specific, which enables zero downtime printer conversion to Bordeaux inks and no need for flushing or color profiling.
"Expending our presence in Latin America, Bordeaux has established two business co operations with PAPEL and ESS – A leading distributors in the printing industry", says Guy Evron, Marketing Manager at Bordeaux. Furthermore, "we are excited to offer our printer specific solutions in response to the growing demand for sustainable solutions for the wide format printing industry".
The latest UV ink solution for the Océ Arizona printer series- PLASMA AR and Fuji Acuity – PLASMA AC, the industry's first plug and print solutions for UV printers can also be seen on stand. These inks are formulated to achieve optimum adhesion; high quality color and performance as well as long-term outdoor durability with multiple rigid, flexible and super-flexible substrates.
Bordeaux's visitors will benefit from a special offer for newly converted wide format printers. Offer is valid for both solvent and UV inks and only during FESPA Mexico show.
www.c-m-y-k.com
Press release by Bordeaux Digital PrintInk
You can Tweet, Like us on Facebook, Share, Google+, Pinit, print and email from the top of this article.