Mimaki joins Caterham F1 Team as technical partner.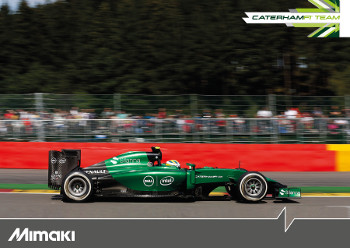 Mimaki joins Caterham F1 Team as technical partner It's been announced that Mimaki has formed a new technical partnership with the Caterham F1® Team, making it the team's official technical graphics supplier. As a result of this partnership, all Formula One communication, vehicle graphics and visuals for the Caterham F1 Team will be now be printed and cut with Mimaki's range of solutions.
---
In the hot seat and fast paced world of Formula One racing, it is vital that teams have graphics that stand out from the rest of the field and give them a commercial and competitive edge. Manfredi Ravetto, Team Principal of the Caterham F1 Team, knows all about standing out. His appointment at Caterham is to drive the team towards greater success and Ravetto acknowledges how important it is to have a partner capable of translating the team's core values into visuals that reflect these goals. "Whether it is on the track or projecting our image across various media, our team is focused on results", he said. "That is why we required a technical partner that could deliver quality that matches our high engineering standards. Mimaki impressed us with the creative versatility their solutions have to offer and won us over immediately."
Mike Horsten, General Manager Marketing EMEA for Mimaki Europe, is very enthusiastic about the new partnership: "Formula One is all about precision, flexibility, quality and success; characteristics we also associate with every print and cut solution Mimaki develops and puts into the market. This close cooperation allows us to demonstrate the sheer breadth of what Mimaki can deliver. Our solutions are as flexible, creative and qualitative as a highly demanding race team management requires them to be. We consider it an honour and a privilege to supply the team with the latest printing and cutting solutions, the results of which will be highly visible in the pits and paddock areas of race tracks around the world."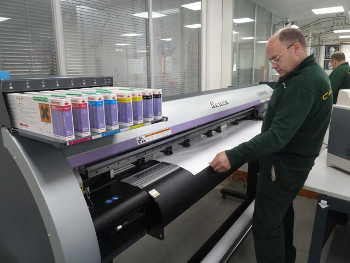 Mimaki technology is already in use in the graphics department at Caterham F1 The Caterham F1 Graphics Team also agrees about the importance of visual presentation throughout the racing season: "Our team is under a lot of time pressure - and so are our communication efforts. We need to effectively translate the key values of Caterham F1 Team into a visual representation that is all about speed, outstanding performance, flexibility and quality. To achieve that success, we selected a reliable partner we can count on for quality and consistency. We're convinced this partnership with Mimaki will deliver the right solutions for the job."
John de la Roche, national sales manager – sign & graphics at Mimaki's UK and Irish distributors, Hybrid Services, echoed these sentiments; "We are delighted to have this fantastic opportunity to work with the Caterham F1 Team and to help them to maximize the benefits of the Mimaki equipment in support of their sporting and commercial objectives"
The green flag on the partnership was waved on the first day of Viscom Paris, September 9-11 in the Porte de Versailles in Paris, France. Obviously, the Mimaki team and booth D60 were appropriately dressed for the occasion!
Mimaki is exclusively distributed in the UK and Ireland by Hybrid Services Ltd and full details of the entire product range can be found at www.hybridservices.co.uk
Follow us on Twitter - @DigiPrintNews
Like us on Facebook www.facebook.com/DPNLive - (click the 'LIKED' button/top of page as well)
Copyright © 2014, DPNLIVE – All Rights Reserved.