Kongsberg XP cutting table delivers

reliability, versatility and speed!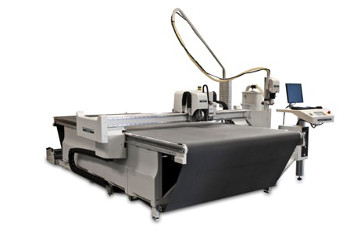 kongsberg i-xpWhen Cyrus Norton from UK based Digital Factory was looking for a new finishing solution for their large format print output, the requirement was for a real workhorse – so he chose the Kongsberg XP cutting table from ESKO, purchased from CWE Solutions.
Established in 1998, Digital Factory is one of the leading suppliers of graphic and display solutions throughout the Home Counties (the counties bordering London but not including the capital itself).
The company offer services to design agencies and trade partners as well as end users and have the latest in digital production technology located in Surrey.
Cyrus explained: "We take pride in producing high quality graphics," he said. "When I was looking for a new flatbed cutter, I knew that we really needed a machine that would be versatile, reliable, and that just keeps running. I discussed our requirements with CWE Solutions, a leading supplier of hardware, software and print and finishing consumables who recommended the Kongsberg XP. It's the only flatbed cutter we have, so it does all the work that comes through the business."
Cyrus was delighted with the service from CWE Solutions. "From their initial advice to the installation and training, the service we received from CWE has been excellent. The superior build quality of the Kongsberg table designed for industrial production has meant we've had minimal requirement for servicing."
Since installing the machine in February 2012, Digital Factory has used the Kongsberg to finish various printed materials, but Cyrus would particularly recommend it for acrylic.
"We specialise in being diverse – we do anything from point of sale, permanent signage, exhibition graphics, and high end consumer products. The Kongsberg is particularly competent with acrylic, and can cope well with complex work."
Cyrus added: "Quality of the build, reliability and output levels of this workhorse were the main reasons we chose the Kongsberg, but it's also very flexible and does everything that we need it to do, very well.


Digital Factory - Cyrus Norton"It can do complex work, and a lot of it. It gives an excellent and consistent quality of output, which is crucial as we face more and more exacting demands from clients."
Looking to the future of the industry, Cyrus said: "We have consistently invested in both our hardware and software to maintain us at the forefront of the industry.
"While we have been in a recession for a while, we are now starting to see more activity. This machine has helped us consolidate our business and is enabling us to make the most of the market upturn by being quicker to respond to the changing customer demands and expectations."
The Kongsberg XP table can provide full time production, 24/7, running jobs from a single unit to a full scale production with up to a 1000 units in a day. The XP's production power and quick change of tools ensures on time delivery, every time, even for the most complex of jobs.
The Kongsberg XP is twice as fast as the Kongsberg XL and XN and it is designed to keep on working in the most demanding production environments.
For more information on the Kongsberg series call CWE Solutions on 0044 (0) 8444 829895.
For more information on Digital Factory, visit www.digitalfactory.co.uk

Follow us on Twitter - @DigiPrintNews
Like us on Facebook www.facebook.com/DPNLive - (click the 'LIKED' button/top of page as well)