Trade resellers wanted for the new T3 Affinity exhibition and display graphics system.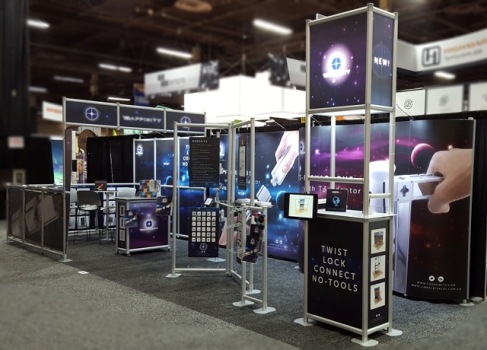 T3 Affinity offers the option of easily fitting shelving, monitors and product/clothes displays
UK based Tecna Display Limited is looking for trade customers who would like an opportunity to become authorised resellers of its new T3 Affinity display system.
With manufacturing facilities in North London, the company is well known for its T3 "twist-lock" cube connector and aluminium extrusions which allow users to build re-usable and re-configurable display graphics for hundreds of applications.
Tecna Display has announced that a window of opportunity has now opened to companies in the retail, exhibition, sign-making, trade printing and exhibition graphics industries to become authorised resellers of its brand-new T3 Affinity system. It has been designed to enable the building of a whole host of structural systems for hanging/ displaying graphics and products using T3 Affinity beams and posts including;
Walling; Retail displays; Interactive retail points; Pop-up Shops; Perimeter Signage; Information points; Walk-in booths; Shell schemes; Room dividers; Shelving systems and more.
The Affinity system comes with a range of shelving and garment display options, features which make it very suitable for retail environments. T3 Affinity also has a 90 degree connector so right-angled structures including plinths, towers, stands and stand-alone units can be built rather than just flat walls.
Managing director Jonathan Evitt explains the theory behind the new Affinity system, "When I developed the original idea for T3, and the 'twist, lock' connector, we always intended it to be a medium from which trade printers could hang and display wide format graphics.
T3 Affinity offers just that but also the option of easily fitting shelving, monitors and product/clothes displays. It has standard sizes so trade resellers will find it extremely easy to design, measure, print and install graphics, plus create displays for products. In fact, T3 Affinity is so easy to use, end customers will be able to install simple designs and change graphics and product displays with ease."
Tecna Display Limited invite all companies interested in joining the new T3 Affinity Global Partner Programme to first register their interest by emailing This email address is being protected from spambots. You need JavaScript enabled to view it., by calling Tecna Display on 0044 (0) 20 8803 4469 or by visiting them on stand H66 at Sign & Digital UK. T3 Affinity will also be available through Tecna Display's UK distributor; Tecna UK Ltd.
You can Tweet, Like us on Facebook, Share, Google+, Pinit, print and email from the top of this article.
Copyright © 2016, DPNLIVE – All Rights Reserved.