Antalis helps Media Edge to explore new opportunities with Xerox Premium Nevertear.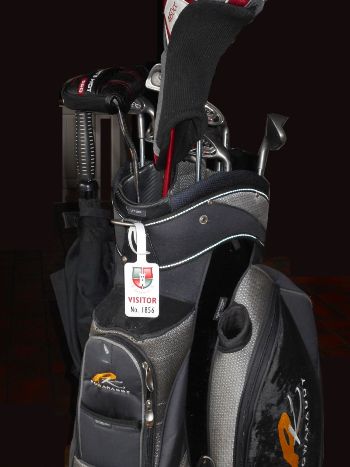 Media Edge Golf Tag Based in Bridgwater, Somerset, Media Edge is a thriving digital print management, professional art studio and web creation services business that is fronted by husband and wife team Jim and Jayne Murray. Jayne heads up the art and design creation element of the business, while Jim oversees the production of finalised artwork and website creation.
The company has continued to evolve thanks to the entrepreneurial vision of Jim, who together with the latest innovative substrates from Antalis, has been able to create new opportunities to drive the business forward.
"We noticed around four to five years ago that the print market was turning more and more towards digital work. But we didn't want to be a company that just churned out the same old type of work as everyone else. We wanted to differentiate ourselves and tap into new areas, so we needed something with a 'wow' factor that would fit our size, and provide us with opportunities to gain ground in new market sectors, giving us a competitive edge," said Jim.
Knowing Jim was always on the lookout for something different, Mark Evans, Key Account Manager for Document Supplies at Antalis introduced him to Xerox Premium Nevertear, a highly developed, durable and printable bright white polyester substrate with a smooth, matt surface. In addition to its water, grease and tear resistance, it also requires no lamination. Quick to see its potential in the travel industry, Jim and his team designed a series of prototype luggage labels that would offer the opportunity for personalisation and brand promotion, while being capable of withstanding the rough and tumble of a long haul trip.
"We pitched the luggage tags to a number of local travel agents, and it wasn't long before we began supplying some of the local businesses. We also started to design bespoke, personalised labels that were colour coded to match the type of holiday the customer had booked. Two years on, we're still supplying them and have just received our latest repeat order for a further 2,000 more luggage tags."
Following the success of the luggage tags for the travel sector, Jim started to explore other new avenues that would benefit from the durable and resistant nature of NeverTear. Being a keen golfer, Jim saw another opening for NeverTear, in the form of golf bag labels for 'guest golfers' playing a round of golf at other clubs.
"When you pay as a guest to play some of the top courses as a visiting non-member, it can be pretty expensive, and all you get to show for your round is a paper tag that often ends up torn and damaged. It's quite prestigious to demonstrate you have played different courses, so having something that will last to attach to your golf bag adds to the value of the round and memory of your day."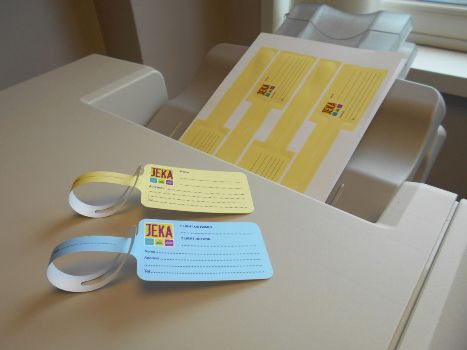 Media Edge Luggage Tag NeverTear presented the perfect substrate yet again for Jim to introduce visitor golf tags, to his local golf clubs, and despite the increased cost per luggage tag, the clubs could see a return on their investment through the ongoing publicity they were getting as the golfers kept the tags attached to their bags.
Media Edge has also begun to use NeverTear in other applications where durability and resistance is of paramount importance such as pre-creased pub and café menus, where we can produce shorter and more economical runs on our digital press.
Inevitably, there were a few initial teething problems with the feeding such a different substrate through Media Edge's original entry-level digital press. But Mark was soon on hand to offer some advice to address the problem. Since the early days, Jim has also invested in a larger Xerox C70 digital press that handles the substrate with ease and has enabled Jim to offer more creative print services.
"We started our business during the recession, which many thought was a huge mistake, but with some forward thinking and the support of Mark at Antalis, we have been able to carve out a unique selling point that has set us apart from competitors, and allowed us to move the business forward."

"It's the detailed know-how of Mark and his understanding of what we are trying to achieve that really sets Antalis apart from other suppliers," said Jim. "For us, the answer from Antalis is always yes - no matter how small the job or short the run, no minimum order necessary. We're a very bespoke, design oriented company, and Antalis have helped us achieve our USP's with products that get the job done. We're always thinking of new ways to improve our customer offering at Media Edge, and we know that all we have to do if we need any extra help is 'Ask Antalis'."
To see what Antalis can do for your substrate requirements, visit www.antalis.co.uk
Case study issued by AD Communications on behalf of Antalis
You can Tweet, Like us on Facebook, Share, Google+, Pinit, print and email from the top of this article.