Expanse Premier Vinyl from

CWES proves to be a winner.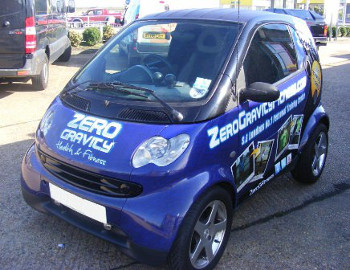 Expanse Premier provides Smart vehicle wrapFrost Signs are delighted with the new Expanse Premier Cast Vinyl and matched cast laminate provided by CWE Solutions Limited (CWES). Gareth Marchant, Production Manager at the Kent based company started using the recently launched Expanse Premier a few months ago for vehicle wrapping and has been extremely pleased with the results.
Established ten years ago, Frost Signs started as a sign installation company, providing trade services to clients across the UK and the world, installing a wide spectrum of sign and graphic projects including vehicle wrapping. In recent years the company have expanded its product portfolio allowing them to expand their direct customer base whilst still maintaining the valued trade service of installation and sub-contract work.
Marchant already had a great relationship with CWES. When he joined Frost Signs in 2011 he brought in the CWES team to profile the HP Designjet L25500 he inherited with the job and supply a new Onyx RIP to optimise his print solution.
Having experienced various vinyl failures, he started researching and testing different alternative vehicle vinyls and applications, particularly trialling the Expanse Premier Vinyl and matched cast laminate for a vehicle wrapping job over Christmas 2012.
"Some vinyl's that we have used for vehicle wrapping in the past provide easy and smooth application but have been very problematic when it came to printing", he explained. "Others were great to print onto but then difficult to fit to the vehicle. We were really struggling to get the branding right for our clients and we knew there had to be a better way. That's when we decided to trial Expanse Premier and we've had great results ever since."
Marchant continued,
"We were one of the first to use Expanse Premier and we don't regret it. Without a doubt, Expanse Premier from CWES is the best vehicle wrapping product we have used and gives the best all-round result of any media we have tried. Expanse Premier gives a great print quality coupled with easy application."
Specially designed for the vehicle wrapping market and rigorously tested, one of the secrets to the success of Expanse Premier lies in the new Micro-Air bubble releasing system adhesive. Expanse Premier also provides superior conformability, easily taking the form of the vehicle it is being applied to but without losing its shape. This ensures that it fits even the difficult curves of the Smart Car without messy mistakes and difficult reapplications. Frost Signs' fitters enjoy using Expanse Premier and it is now their preferred choice for vehicle wrapping.
When Frost Signs upgraded to a new HP Designjet L26500 Latex printer a few weeks later in January 2013 to meet the ever increasing demands of their growing customer base, it was a natural decision to use CWES again. As Gareth describes,
"We needed a new machine and it had to be latex as so many of our jobs are fast turn-around", added Marchant. "With latex you can print and as the signs are coming off the machine they are ready to use straight away. You don't have to wait for inks to cure or gas off before laminating. Our need for a consistently reliable printer is paramount and that's why we chose the HP Designjet L26500 Latex printer from CWES."
Graham de Kock, commercial director at CWES commented,
"We are very pleased that our new vehicle wrapping vinyl, Expanse Premier, has had such a great impact at Frost Signs. The quality of the media can be seen in the fantastic work they have been completing recently including with the Smart car wrap. Our new Expanse media range was developed to answer the needs of our customers, identified from our years of working closely with them, and it's great to know we have got it right with Expanse Premier."
http://www.cwesolutions.co.uk/

Follow us on Twitter - @DigiPrintNews
Like us on Facebook www.facebook.com/dpnlive - (click the 'LIKED' button/top of page as well)