Future-proofing investments by PressOn.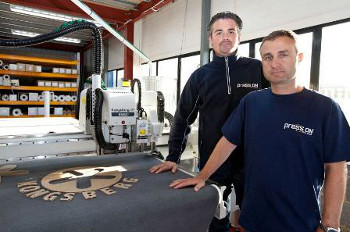 PressOn - Andy and NigelFuture proofing is crucial to business success in the fast moving world of large format printing, and for PressOn, the purchase of a HP LX 3000 and Kongsberg i-XP digital cutter from CWE Solutions was a major part of their investment strategy.
"The key is, to keep abreast of new technology and move quickly towards it, to gain competitive advantage," said PressOn's co-founding Managing Director Andy Wilson.
PressOn, one of the UK's leading large format digital printers, became a world leader in June 2013, by being the first global customer for the new HP LX 3000 latex printer.
From POP and wallcoverings to vehicle graphics and outdoor banners, the HP Latex 3000 printer delivers both high quality and high volume printing, and all the environmental benefits of water-based inks.
The purchase from CWE Solutions has since supported the company in transforming productivity and working at meet the ever decreasing timelines of their customers.
"2008 and 2009 had been tough years as recession hit but by 2010 things were improving," added Andy. "We tested a small latex printer from HP and then went on to purchase two LS26500's (now known as the LX260), an LX600 and an LX850 from CWE Solutions.
"We became one of the largest producers of printed latex vinyl in the UK during 2012. Through 2012-2013 we've invested in a Kongsberg i-XP cutter, three more laminators, one of which is liquid, and an EFI VUTEk QS2 Pro, in addition to the HP LX 3000."
PressOn, whose clients include Harrods, Crossrail, Limited Space, and the London Ritz, now employs 30 people across the UK and has a turnover in excess of £2.5m.
They had seen numerous machines before the HP LX 3000 but the speed and additional capacity it creates was the major selling point. The decision to purchase the Kongsberg was also based on the speed and variety of products it could handle.
Co-Managing Director Nigel Webster said: "We work with CWE Solutions when investing in new kit as we trust and like working with them. They understand us as a business and we have been happy with all aspects of service, installation and training. The installation of the HP LX 3000 was particularly swift and straightforward - it was productive within hours of being set up."
Together, the HP LX 3000 and Kongsberg are mostly used for visual display products, banners, hoardings, signage, and vehicle wraps. Increasingly, taxi wraps are a serious growth area of the business.
As well as traditional media, PressOn print on to a variety of substrates from astro turf to aluminium. They say that the Kongsberg can cut board as easily as self-adhesive vinyl.
The HP LX 3000 is costing half the amount to print and run than PressOn's previous latex machines.
"The new machines enable us to move with the same speed as our customers," added Nigel. "The fast paced world of outdoor media means customers expect to place an order on a Thursday, send artwork on the same day, and receive installation or delivery by Saturday. The new HP LX 3000 enables us to fulfil this demand.
"The other major selling point we've found is that latex print doesn't go brittle on self-adhesive vinyl, making removal easier. Latex also requires less time than solvent inks to dry – all contributing to us meeting very tight deadlines.
"Customer service has always been a driving force for the business and this new technology helps us achieve this."
For more information on the HP LX 3000 and the Kongsberg series call CWE Solutions on 0044 (0) 8444 829895.
For more information on PressOn go to www.presson.co.uk

*Case study on behalf of CWE Solutions by Berni Raeside, BRPR, 0044 (0) 7970 509758
Follow us on Twitter - @DigiPrintNews
Like us on Facebook www.facebook.com/DPNLive - (click the 'LIKED' button/top of page as well)