Points to investment in HP Latex from City and West End Solutions.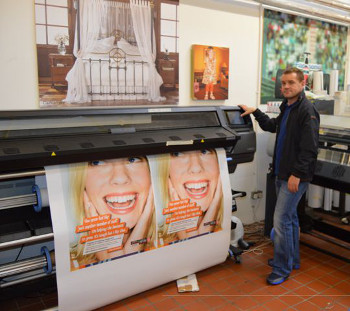 Ian Penman's son Ian with Introscan's HP Latex 360Glasgow-based wide format printer Introscan has been living up to its name over the last 12 years, constantly 'horizon scanning' for new technologies and the opportunities they bring.
Most recently, this has led the company to purchase a new HP Latex 360 with Onyx Rip from City and West End Solutions (CWE). With many trade clients, Introscan know they need to remain ahead of the pack, and on the cutting edge of wide format printing.
Ian Penman started his career as an 'early adopter' of new print technologies when he set up the company more than a decade ago as an image setting service for printers. He quickly saw that the need wouldn't always be there and decided to evolve the company with large format printing as the way forward.
Penman initially invested in a Roland that could (and still does) print positives for screen printers as well as posters.
The company then moved on to HP, buying a HP 5000 around eight years ago and shortly afterwards upgraded to a HP 5500 for greater speed. And when John decided to expand into the outdoor market he upgraded once again to the HP Z6100.
The timing of the recent move to HP Latex was decided by an improvement in the technology matched with the residual value of the Z6100.
"I decided to upgrade to the HP Latex 360 while I could still get good money for the Z6100 on the second hand market – it's still a great machine," explained Penman.
"I had looked at Latex previously with CWE but the image at the time was too soft. With the new machines the image is harder and the optimising system means you get output that is sharper and just as robust as that from UV machines.
"I believe that with today's green agenda UV printers will eventually be banned for environmental reasons. We've already had clients asking about environmental certifications, who want a non-solvent product."
Graham De Kock, CWE commercial director added: "The new latex inks offer durability with superior scratch resistance on vinyl and banner and enhanced quality and performance on a wide range of media.
"They are odourless, free from HAPS and you don't need special ventilation in production areas. This makes Latex printing the best option for places like schools, restaurants and hospitals where high environmental standards must be met."
The HP Latex 360 was installed in the company's premises in Govan on 15 September, and it went in absolutely perfectly with no problems. Utilising the Onyx RIP the company now has the advantage of printing two sided, something they had had to outsource in the past.
"In today's market it's important to keep as much work in house as you can, and the new technologies are making that possible," continued Penman. "With this new printer we can continue producing the staples – posters, pop ups, pull ups and A-boards - whilst diversifying into outdoor applications.
"We're also now looking at working more with temporary textiles and soft signage in the future, and the next time an order for flags comes in we'll give it a go."
And Ian, who runs Introscan with his son, also named Ian, has a challenge for the manufacturers about where the industry goes from here. He says that looking at the machines they have at the moment, it has been five years since they last upgraded rather than their usual three years.
"Manufacturers are producing machines that go faster and faster, but you have to ask yourself whether the volume of work is there. The quality is also pretty much up there where you need it now, so is it a revolution rather than evolution that we need to take the wide format industry to the next level? Over to you!"
For more information on the HP Latex 300 series call CWE Solutions on 0044 (0) 8444829895,This email address is being protected from spambots. You need JavaScript enabled to view it. or go to www.cwesolutions.co.uk/300series
For more information about Introscan Ltd email This email address is being protected from spambots. You need JavaScript enabled to view it. or call 0044 (0) 141 445 2587
Case study on Introscan
You can Tweet, Like us on Facebook, Share, Google+, Pinit, print and email from the top of this article.