Company says new CJV30-160 integrated printer/cutter will go the distance!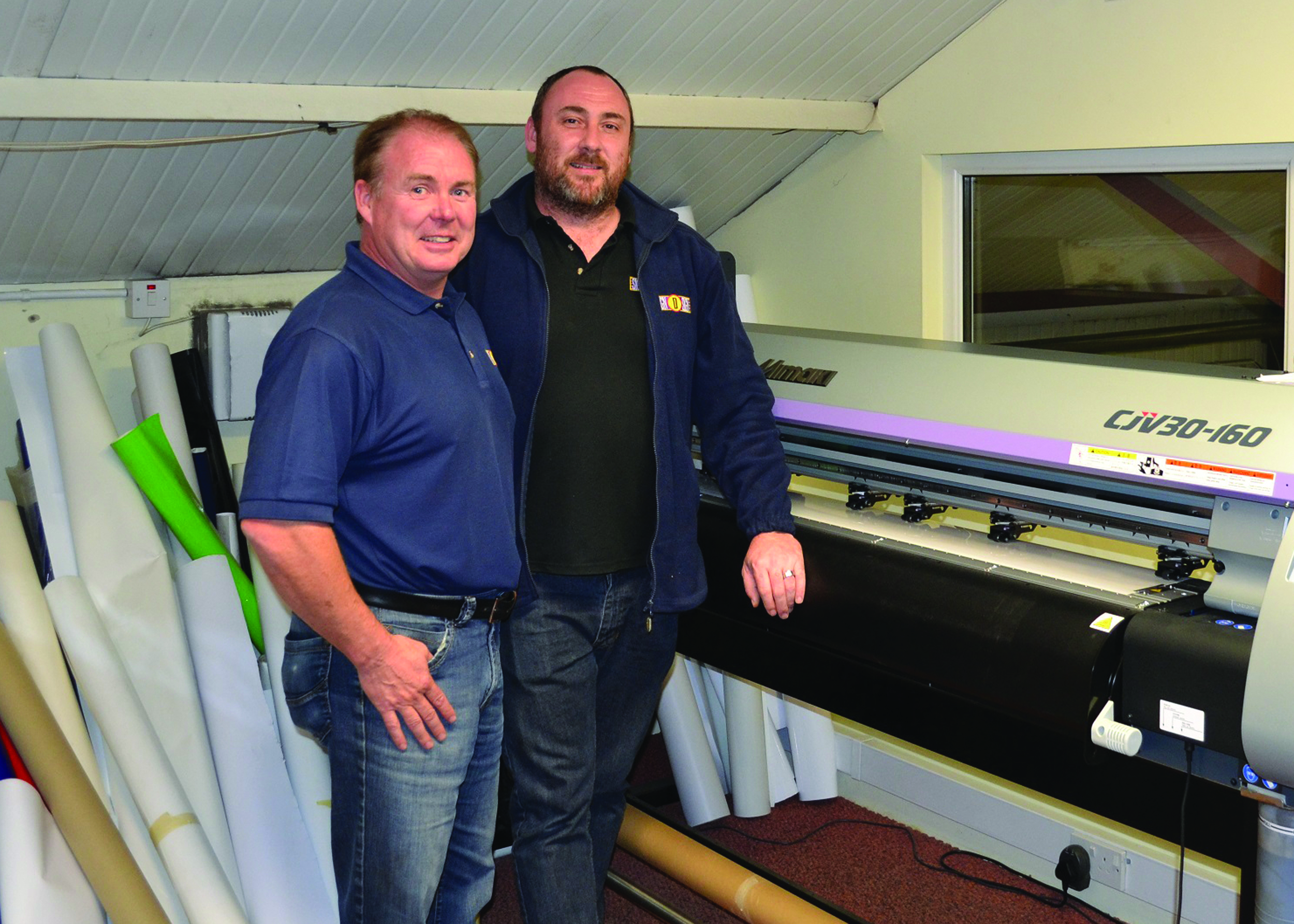 Sign D Sign's Albert Watson and Glenn MacPherson with the company's new Mimaki CJV30Belfast based Sign D Sign, is a company that prides itself on going the extra mile. Big on fabrication, its 25 years' experience has seen it acquire some impressive kit which has been lovingly cared for to keep it in tip-top shape. When they invested in a Mimaki CJV30-160 from local reseller Dennis D Evans last summer, it immediately became an integral part of their printing setup.
The company is owned and run by Albert Watson and assisted by studio manager Glenn MacPherson, who together have moved the company from traditional signage in its early stages of development, through to more modern means covering all aspects of design, manufacture and installation. "We've got a long and strong business relationship with Dennis D Evans," explained MacPherson. "We trust their advice and have been delighted with the positive impact the Mimaki CJV30 has had on our services. The company is very proud of its reputation for looking after customers and ensuring that it delivers a first-class service and we've seen customers returning time and time again on the basis of what's being produced on the CJV30."
Sign D Sign's premises has been described as an 'enthralling rabbit warren', with each room providing an alternative creative output which has seen it produce work for some large brands and high street names. The companies production kit, apart from its printers, include grand-format cutting equipment, laminators and other finishing hardware and an in-house metal workshop, demonstrating the scope of provision on offer at Sign D Sign. However, what is most notable is the care with which they maintain all of the machinery, as MacPherson describes; "Here at Sign D Sign we look after things. We have always invested in good quality equipment and then taken the time to maintain it, so we always get the best output possible and the machines just keep on going. Mimaki's build quality fits with this ethos and we know we can rely on the CJV30 to go the distance for us."
The Mimaki CJV30 series is an integrated printer/cutter that provides high quality printing onto a broad range of substrates and boasts a seamless transition through to cutting vinyl. Available in four sizes, ranging from a compact 60cm up to 1.6m, it is compatible with eco-solvent, solvent and dye-sublimation inksets.
For further information about Sign D Sign and its services, visit www.signdsign.biz or telephone 0044 (0) 28 9023 6006. For details of Dennis D Evans's products and services visit www.devans.co.uk or telephone 0044 (0) 28 9065 2220. For all of Mimaki's latest products and consumables visit Irish and UK distributor, Hybrid Services Ltd's website www.hybridservices.co.uk or telephone 0044 (0) 1270 501900.
You can Tweet, Like us on Facebook, Share, Google+, Pinit, print and email from the top of this article.