Company moves into new premises and makes significant investment in Mimaki kit.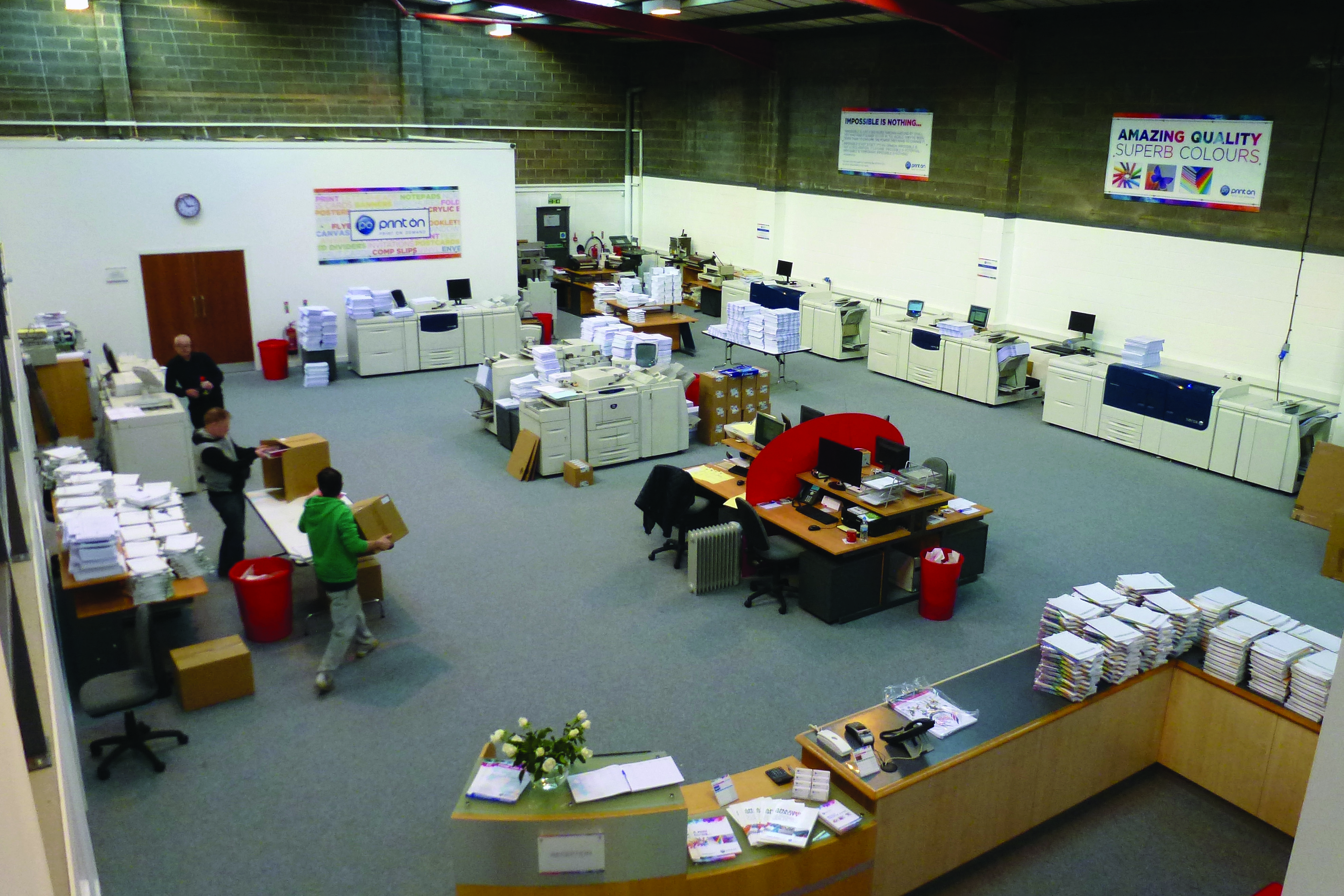 Print On's new print hall, with the wide format kit housed in a separate dedicated area With a move to a new and impressive 6,000 sq. ft premises a few month ago, Cheshire-based printers, Print On has moved more than a notch into a different league. The new production facility is in Lawnhurst Industrial Park in Cheadle, UK and the first thing that strikes you as you walk through the front door is of a company geared up with future ambitions. From the well-appointed boardroom and customer meeting room, the new premises opens up into a modern reception area leading to an open plan print hall. And it's tidy, very tidy, an indication that Print On really wants its customers to see how it operates.
The company specialises in high quality digital printing ranging from business cards, flyers, stationery pop-up banners, and much more, employing a core staff of eight.
Efficiency is the name of the game, with each member of the team being more than capable of multi-tasking, including the family directors of the business, who are very much hands-on. As Managing Director, Alex Oldfield explained,
"We're a tight-knit family business. I get amazing support from my father and mother in their respective roles of Marketing Director and Financial Director and none of us shy away from getting our hands dirty – we take real pride in what we do and get involved on a daily basis in every aspect of the operation."
The new premises has all the hallmarks of a business that is prospering in what many in the industry still consider being a challenging economy. So how has Print On managed to buck the trend and develop so successfully?
The Print On team with directors Keith and Alex Oldfield pictured centre Alex's father Keith is confident in his response; "We've always believed our two key assets to be our staff and the equipment we use and there's been no shortage of investment in either."
Traditionally Print On based much of its production capability around its arsenal of four Xerox Versant digital printers, but over time, realised it had to offer a more diverse range of print services, crucial to retaining existing customers and also developing new revenue streams. As Alex explained;
"Some of our larger retail customers with whom we have really close relationships were placing their PoS or other wide format print requirements with other print providers. We really needed to equip ourselves to meet what seemed to be a growing demand in the sector. Investment in a Mimaki JFX200 flatbed and a brace of Mimaki JV300 production solvent printers sourced through our long-standing relationship with Mimaki reseller; Granthams of Preston, has really enabled us to stretch our legs and start producing a much wider range of products for our customers."
Alex cites this significant upturn in business as the catalyst for making a decision to move to the new premises in January of this year. "We spent a couple of months at the end of last year decorating and refitting the premises to meet our specific requirements and this included a dedicated wide-format area in a separate part of the building to house the array of new Mimaki kit."
The team's wide-format specialist; Matt Peters is impressed with his new machines and his experience of working with them is continually developing. "I've previously worked with other wide-format flatbeds which I'd always felt to be perfectly adequate. But the more I use the Mimakis, the more impressed I am with their performance – the print quality and the speed just blows me away! We hardly ever need to use the highest quality setting on the JFX200, as even in fast production mode the quality is really quite exceptional. I'm regularly printing 8' x 4' rigid boards with full ink coverage in around 20 minutes, at a highly acceptable print quality."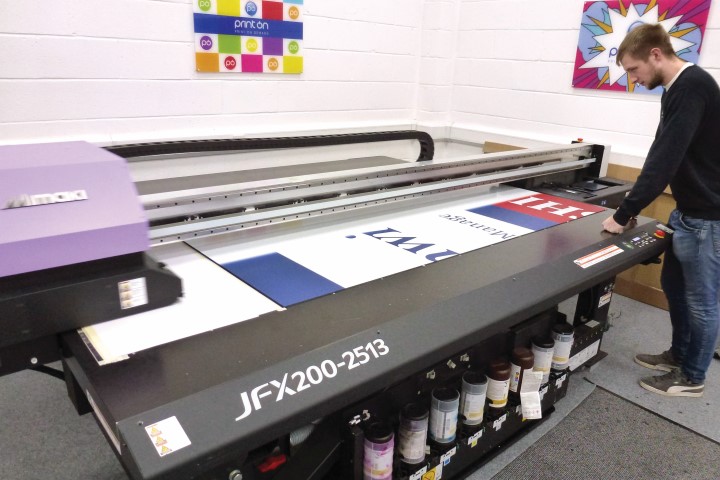 Print On's Matt Peters with the Mimaki JFX200 flatbed printer He is even more enthusiastic about the companies JV300s, describing them as "real workhorses and ultra-reliable." These two machines have obviously been earning their keep at Print On as evidenced by the fact that under the ink cartridge re-cycling scheme operated by Mimaki's UK and Ireland distributor, Hybrid Services, over 400 empty 440ml solvent ink cartridges have been re-cycled in less than 12 months operation.
To the visitor, there's a real buzz about the new premises as everyone seems to be focused on maximising the potential of the companies production firepower and a comfortable and spacious working environment. Customers seem equally impressed, with increased levels of business coming from longstanding clients including many major multi store retailers, and the added bonus of a number of new high-profile clients.
With new premises and equipment, the Print ON team is more than ready for the challenges that lie ahead of them.
Further information about Print On's services can be found at www.printonuk.com. Mimaki's full product range can be found via its UK and Irish distributor, Hybrid Services at www.hybridservices.co.uk or by telephoning 0044 (0) 1270 501900.
You can Tweet, Like us on Facebook, Share, Google+, Pinit, print and email from the top of this article.
Copyright © 2016, DPNLIVE – All Rights Reserved.