Up to £5,000 cashback available for companies trading in their existing printer/cutter.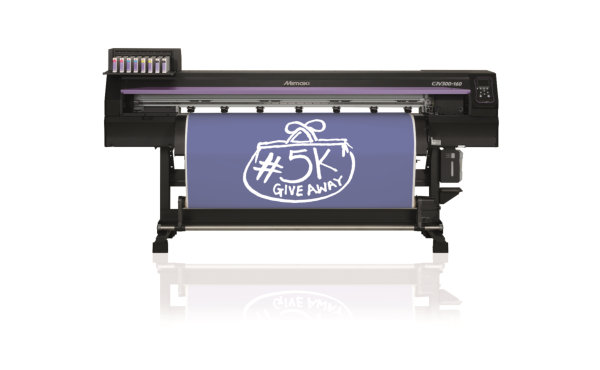 The Mimaki CJV300 offers a state of the art integrated print and cut solution 
It's been announced by Mimaki that companies looking to ramp up their print and cut productivity have a great opportunity this summer as its flagship integrated printer/cutter – the CJV300 Series – forms an integral part of a great £5k Print & Cut Giveaway. With up to £5,000 cashback available for companies trading in their existing printer/cutter and a two year Gold warranty available as standard on the CJV300 Series; this investment in the multi award-winning solution makes for a strong business case.
Mimaki's CJV300 Series comprises a 1.3m and 1.6m model with print speeds of up to 105.9 m2/hr and fully automated print and cut functionality. With over 3.5 litres of SS21 solvent ink included alongside a powered take-up unit and a professional suite of RIP and cutting software, the CJV300 is the class leading integrated printer/cutter and according to John de la Roche; National Sales Manager – signs and graphics at Mimaki's exclusive UK and Irish distributor, Hybrid Services Ltd, the offer represents an enticing proposition.
"Customers seeking to take a step up with their print and cut capabilities would do well to consider the new CJV300," he says. "Its performance is peerless and, with unique features such as its ability to die cut, it adds creative as well as productivity benefits to businesses."
Trade-in printer/cutters will be collected as the new machine is delivered and cashback of £4,000 for the CJV300-130 and £5,000 for the CJV300-160 will be paid by Hybrid directly to the customer after installation.
"Mimaki's print and cut heritage is peerless," concludes de la Roche, "The Mimaki CJV300 is the pinnacle of our integrated range and this offer makes it the most competitive solution for companies looking to ramp up their capabilities."
The offer ends on 30th September 2015 and is available only through Hybrid's reseller network. Further details and full terms and conditions can be found by visiting www.hybridservices.co.uk or contacting an authorised reseller.
You can Tweet, Like us on Facebook, Share, Google+, Pinit, print and email from the top of this article.