Case study by BRPR on behalf of CWE Solutions.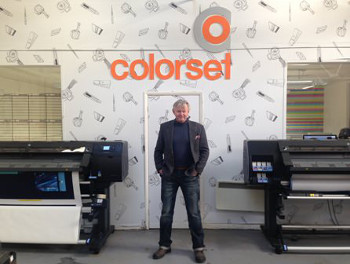 Colorset Director Tom PhelanThe classic Sesame Street song says that 'it's not that easy being green', but UK based Colorset is proving those words are simply not true.
With their recent purchase of four wide format HP LX260 printers from CWE Solutions, they're making great strides in environmentally friendly production.
Colorset Director Tom Phelan explains: "We've moved to the HP latex printers predominantly for the environmental properties brought by the water based inks.
"We believe that the eco-drive for recycled and recyclable products shouldn't cost you the earth, and this issue isn't going to go away.
"Our business ethic is strongly rooted in protecting our environment. Pvc and plastic may be cheaper but they just end up in landfill. We believe that by investing in these latex printers they may be a bit more expensive, but we're doing our bit."
Set up in 2002, Colorset has branches in London Bridge and Nottingham. Colorset works within with most sectors, including retail, museums, sport, property, exhibition, events and interiors.
Tom adds that they don't want to be the biggest or tap the mass market; they want to be known for their creativity and quality.
He said that CWE Solutions made the buying process easy. "We had been waiting for the quality to be there before investing, and with the HP LX260, we find that the medias are more receptive, colours are more vibrant, last longer and don't fade. CWE were a real help as they understood our business needs, and offered good pricing and technical back up."
CWE Solutions Director Darren Walker said: "As with all our clients, we really took the time to work with Colorset and make sure their investment was the right one to deliver on their business aspirations.
"We have a wide range of experience and expertise and were happy to recommend the HP LX260s as a perfect fit for Colorset's requirements. In addition to the excellent quality of finish, HP Latex Inks and recyclable materials offer a reduced environmental impact that is second to none.
"We are keenly aware of our duties and responsibilities to the environment, and we aim to supply the best print solution for our clients, whilst keeping a firm eye on the impact that we and our technologies, are having."
The four new printers were installed at the end of October – two in Nottingham and two in London. Around the same time, Colorset took another step towards ensuring quality across the board by adding three vans to increase their fleet to seven with 13 installers.
"Not many companies have their own dedicated installers, but rather than outsourcing this gives us greater control and reliability."
Having the same production facilities in both of their sites helps the company deliver quality and consistency across UK-wide campaigns. Nottingham picks up installations from Birmingham up to the north, with London picking up the rest of the country. They also work with customers in the Republic of Ireland, Holland, Germany, and Spain, and they have just expanded into Los Angeles, San Francisco and New York.
"International retail companies with London headquarters want their graphics to be the same the world over and we can deliver that for them."
But Colorset aren't content with static graphics – through newly-set up sister company Motion Advertising Technology (MAT) they are turning windows into enormous double-sided video screens.
"Using a layer of vinyl infused with 10,000 shards of glass, clients can project images from in-store and stream live content, turning 2D into 3D and even 4D. It can even be adapted for touch-screen," says Tom.
MAT can give the video the capacity to interact with the consumer, allowing them to dictate from their smartphone, the images they would like to see on display. It can be hosted and configured from a central hub so that with the click of a button a campaign can change in an instant across multiple sites.
MAT not only install the systems, they also write the software and have worked with manufacturers to source and fine tune the material – and they think they've got it down to a T.
"This technology means that international retailers can use the technology in their flagship stores to stunning effect, and with the HP Latex printers we can supply their other outlets with fantastic printed graphics complementary to the multimedia campaign," added Tom.
For more information on HP Latex printers call CWE Solutions on 0044 (0) 8444 829895.
For more information on Colorset go to www.colorset.co.uk

Follow us on Twitter - @DigiPrintNews
Like us on Facebook www.facebook.com/DPNLive - (click the 'LIKED' button/top of page as well)