Company expands from its new Weymouth based

premises due to increased production capabilities.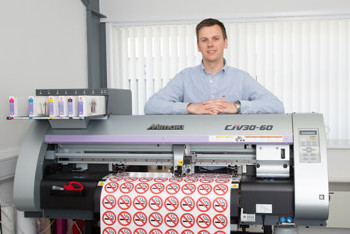 Stika.co's Alex Smith and the company's Mimaki CJV30-60 UK based Stika.co, a young company located in Weymouth, already had a considerable presence on eBay before it invested in a Mimaki CJV30-60 to expand its production capabilities for its unique, digitally printed product. Stika.co's popular merchandise ranges from light switch stickers to health and safety labels, with demand for its products growing all the time.
---
The company was established in 2012 and it all began when Alex and Cristina Smith created a light switch cover sticker featuring a cartoon character for their young daughter.
"It wasn't long before we realised we'd come up with a unique idea that was going to be very popular," Alex Smith explained. "Within a year we had sold over 10,000 stickers through eBay alone and we now regularly despatch 150 orders per day through our website."
After analysing its workflow, Stika.co decided that it needed to invest in a new printer which would allow them to offer faster turnaround, high quality finishes and one-off production.
Working with Mimaki reseller, PaperlinX, it purchased a Mimaki CJV30-60 integrated printer-cutter.
"Having seen the Mimaki at an exhibition, we decided it was exactly what we needed. We have limited space at our premises, so having a printer-cutter in one was a real bonus, especially one that doesn't compromise on print quality," commented Smith. "Our customers are delighted with the stickers and how great they look – our client base is growing all the time."
Smith already had extensive printing experience as a director of a local print company and a couple of months after the purchase of the Mimaki, Stika.co moved into new premises as it continued to expand.
Stika.co turn light switches into decorative features "The Mimaki perfectly suits our application, with its vibrant colours and high print detail," said Smith. "It then seamlessly cuts to shape without the need for an operator to intervene – which is ideal for smaller businesses where one person may be carrying out multiple jobs."
Using Orajet® 3164 100mic vinyl, Stika.co has developed an impressive portfolio of light switch stickers, ranging from cartoon based images for children's bedrooms, through to abstract art and stylish interior décor pieces. The company is also beginning to expand its range to include mobile phone skins and covers for television remote controls too.
The CJV30 Series printer-cutter is an integrated print and cut solution from Mimaki and is designed to offer flexibility with its four sizing options from 60cm through to 1.6m. It delivers print speeds of up to 17.5m2/h and runs with Mimaki's SS21 fast drying, outdoor durable inks or ES3 eco-solvent options.
For further information about Stika.co and its complete product range please visit the website www.stika.co. Mimaki's products can be found by visiting UK and Irish distributor Hybrid Services Ltd's website at www.hybridservices.co.uk. Authorised Mimaki reseller PaperlinX has its site at www.paperlinx.co.uk
Follow us on Twitter - @DigiPrintNews
Like us on Facebook www.facebook.com/DPNLive - (click the 'LIKED' button/top of page as well)
Copyright © 2013, DPNLIVE – All Rights Reserved.