Company wanted to both extend its offering

for existing clients and expand into new sectors.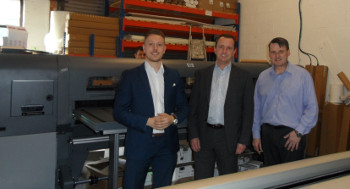 NXP's Luke Garbutt (sales), Nick Faux and production manager Steve PriorA recent investment in three new HP wide format printers from UK based City and West End Solutions (CWE) is increasing revenues and opening new markets for NXP Europe (NXP).
NXP, based in Tunbridge Wells, UK, purchased a HP Scitex FB700, a HP Designjet Z6200 and a HP Latex 260, all of which were installed by CWE in October and November 2013.
The company is now in the process of taking on around five more team members to maximise the opportunities the printers offer. This recruitment of new sales, account management and production staff will increase the workforce to around 30.
NXP works with a broad spectrum of clients across retail, print management, design houses, and IT companies. As part of its growth strategy, the company wanted to both extend its offering for existing clients and expand into new sectors.
Sales Manager Nick Faux says that when NXP approached the market with its plans for investment, City and West End Solutions not only offered a tailored solution at a competitive price, they also worked with them, making a site visit to help plan how to fit the printers into the environment and space available.
"CWE advised us on the best suite of printers to deliver on our ambitions and the installation went really well. They're also supplying us with the consumables so we can be confident the substrates we use are the right ones for the machine and the job," said Nick.
"We're now able to go wider and produce outdoor banners, exhibition stands, more POS material, wallpaper coverings, and work with more textiles and fabrics.
"Since installation we have increased revenue from existing clients and improved productivity for them."
The 61" HP Latex 260 is supporting NXP's expansion into the growing soft signage market in particular, with its ability to print on a broader range of fabrics as well as paper, film, and low-cost uncoated options. It produces sharp, vivid indoor and outdoor signage with great durability.
At 98", the Scitex FB700 is enabling NXP to print much wider, and on virtually any rigid and flexible media, with high-quality results. It's ideal for jobs such as hoardings, POS, exhibition stands and packaging.
The Designjet Z6200 replaced an old Z6100, and has increased NXP's productivity. This photo printer is the fastest printer in its class, is ideal for backlit signs, retail displays, posters and pop ups. It delivers print-to-print colour accuracy on different substrates, for great campaign consistency.
Nick concluded: "There's a lot going on at NXP at the moment – our growth plan is on track, we're taking on new staff and we're looking to move into a new unit as we've outgrown the one we're in. We're also now running a 24-hour operation five days a week.
"The current market is very buoyant, with positive vibes from colleagues and clients that give us a very optimistic view of the next few years."
For more information on HP printers call CWE Solutions on 0044 (0) 8444 829895
0044 (0) 8444 829895.
For more information on NXP Europe go to www.nxpeurope.com

*Case study by BRPR
Follow us on Twitter - @DigiPrintNews
Like us on Facebook www.facebook.com/DPNLive - (click the 'LIKED' button/top of page as well)