Mimaki dye-sublimation investment creates new business stream for the company.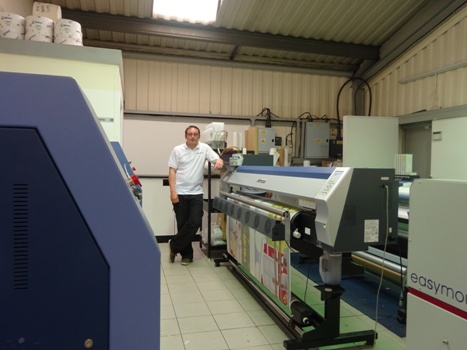 Harberson's Print Manager, Karl Richardson with the Mimaki TS34
UK based Harberson Ltd, a printed table cloth specialist, located in Appleton, has enjoyed a long-standing relationship with the corporate linens industry, with the business transforming itself from simple supplier to now offering bespoke dye-sublimation printing of tablecloths and linen for the exhibition industry thanks to its investment in a Mimaki TS34-1800A.
Harberson Ltd started life 20 years ago when Eric Hargreaves set up Chemi-Clean – a company dedicated to supplying bed linen to the health and care sector, along with a laundering service. Fast forward and the company has responded to customer demand for branded linens and moved into providing creative printing service, whilst retaining its original passion for linens. Eric has since retired, but the business is now run by his daughters, Lisa Webber and Caroline Richardson and son-in-law, Karl Richardson, who acts as print manager.
"In 2010 we went Limited under the name of Harberson which was chosen as a combination of the directors' surnames - Hargreaves, Webber and Richardson," explained Karl Richardson. "We wanted a new name to reflect the changes the company was going through as we made new investment in technology and moved to bigger premises."
Harberson Ltd made the investment in a Mimaki TS34-1800A wide format dye-sublimation printer after seeing the product at Sign & Digital UK; "The 1.8m width of the Mimaki TS34 was pivotal in our decision to purchase as we wanted to develop our table cloth printing side of the business. We were given great advice from specialist reseller RA Smart, who supplied us with the TS34 and a Transmatic heat press and have had great results from both, both in terms of the print quality and end result, but with productivity too."
Discussing the purchase by Harberson, RA Smart Managing Director Magnus Mighall commented on the success of the TS34;
"Mimaki's TS34-1800A has continuously delivered a competitively priced solution at a popular width and with powerful production capabilities. Using aqueous ink to print to polyester ensures the Mimaki printing solution has excellent green credentials. It was the perfect choice for Harberson with their table cloth printing requirements."
For further information about the products and services available at Harberson Ltd visit www.harberson.co.uk or telephone 0044 (0) 1925 262529.
Details of RA Smart's product portfolio can be found at www.rasmart.co.uk or by telephoning 0044 (0) 1625 576231.
Mimaki's full product range can be found on exclusive UK & Irish distributor, Hybrid Services' website www.hybridservices.co.uk or by telephoning 0044 (0) 1270 501900.