DGS Supplies Boosts Productivity and potential with Mimaki investment.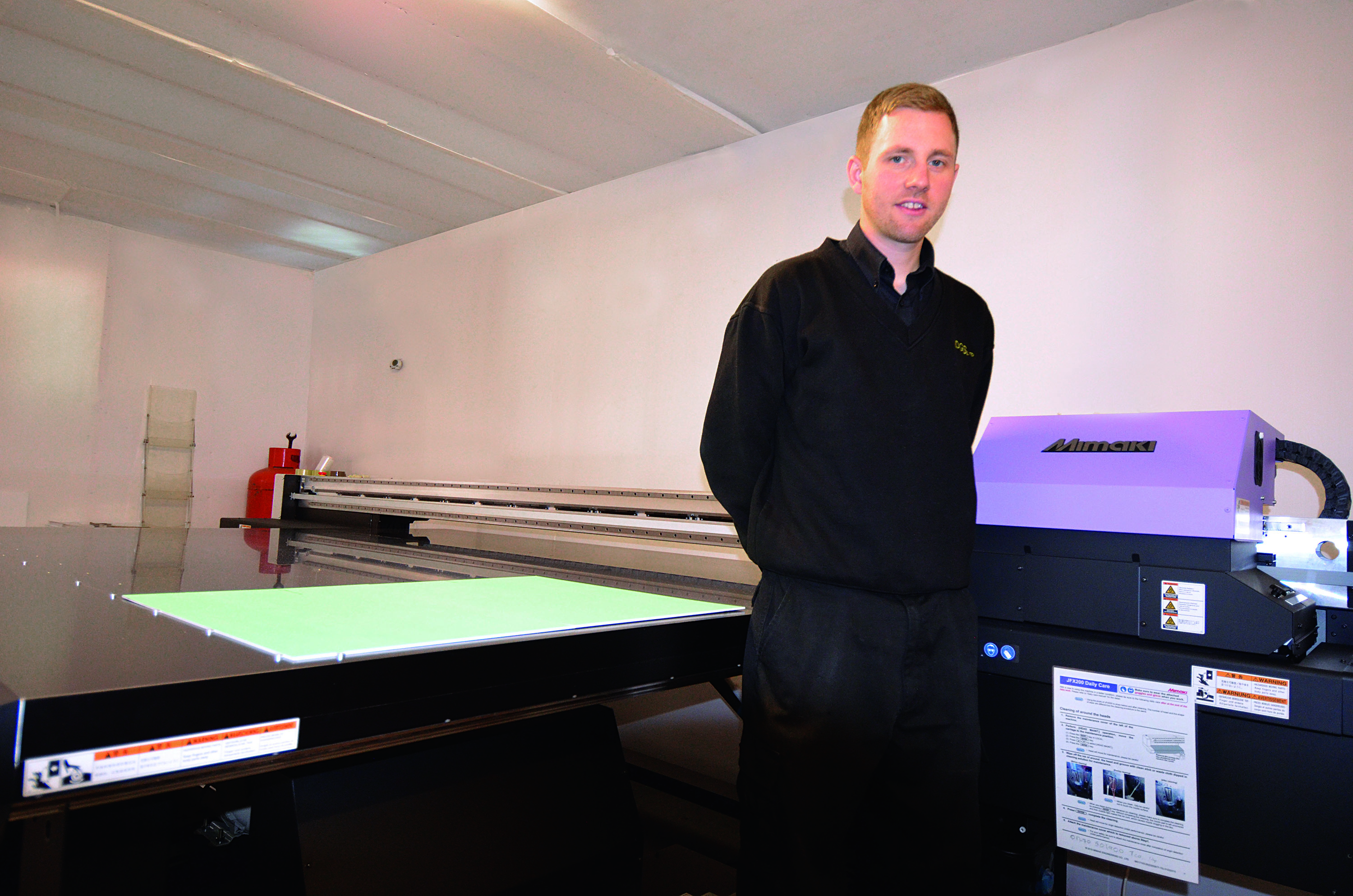 Print Manager at DGS Supplies, Matt Shaw As a family run business set up 20 years ago by husband and wife team, Franc and Diane Moscato, customer satisfaction is at the heart of UK based DGS Supplies, located in Dudley. So when the time came to invest in some new hardware to step up to meet customer demands and streamline processes, the Mimaki JFX200-2513 LED UV flatbed printer was the perfect match for the company's requirements.
"We're specialists in construction, PPE, signage and promotional goods and printing," explains managing director, Franc Moscato. "We provide a large amount of safety signage to the construction industry which is traditionally mounted onto rigid board and we made the investment in the Mimaki JFX200 flatbed in order to print direct-to-board and reduce time consuming finishing techniques. Not only has the JFX200 allowed us to cut out processes, but its fast print speeds and capacity to print multiple items on one print run have meant we've seen a huge increase in our productivity without having to take on extra staff."
The printing arm of DGS Supplies is headed up by print manager Matt Shaw, who has an abundance of positive feedback to give about the new flatbed that was supplied and installed by specialist Mimaki reseller, printMAX. "After 10 years in the printing industry, the JFX200 is by far the best printer I've worked with. It's simple to use and great quality and we received excellent training from printMAX. The whole process from when we ordered the JFX200, through to the four day installation and following support has been faultless."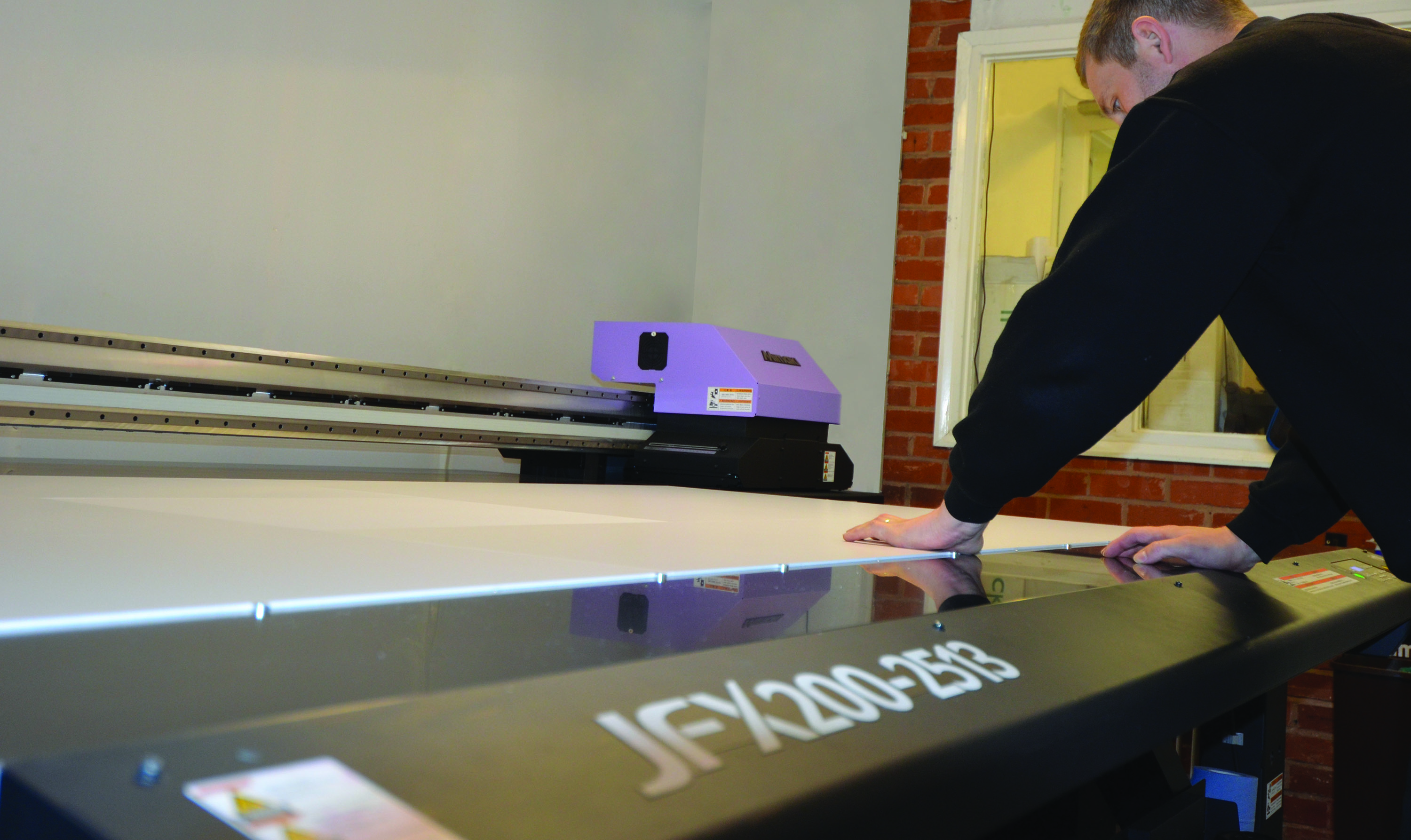 Matt Shaw sets up a new print job on the Mimaki JFX200 PrintMAX's managing director, Michael Bolton emphasises the capacity that the Mimaki JFX200 offers to companies like DGS Supplies;
"The Mimaki JFX200 delivers superfast speeds and stunning print quality direct to rigid objects. Its 8'x4' bed size not only provides a seamless platform for conventional board printing; the JFX200 offers so much more by way of potential applications for companies looking for new revenue streams and a more creative string to their portfolio bow. DGS Supplies is now able to offer fantastic quality and fast turnaround for its existing client base, as well as having secured its place as suppliers to the bespoke interior décor and personalisation markets. The future looks good for DGS."
For further information about the products and services offered by DGS Supplies visit www.dgssupplies.co.uk or telephone 0044 (0) 845 0178838. Details of the products and services available at printMAX can be found at www.printmax.co.uk or by telephoning 0044 (0) 1420 511539. Mimaki's complete product portfolio can be found at -www.hybridservices.co.uk or telephone 0044 (0) 1270 501900 for further information.
You can Tweet, Like us on Facebook, Share, Google+, Pinit, print and email from the top of this article.
Copyright © 2014, DPNLIVE – All Rights Reserved.