Ricoh opens new European

Customer Experience Centre


in Telford, UK.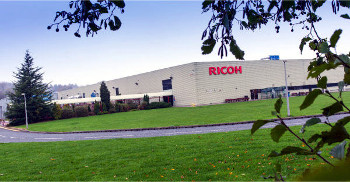 Ricoh Customer Experience Centre in Telford UK
Ricoh launched its new Customer Experience Centre in Telford, just outside Birmingham on the 4 November 2014. Their investment in this state of the art facility is to showcase the Company's machines and technology in real-life situations to the print industry.
DPNlive was invited to the opening of the Centre and I, Bob Tallent, was chosen to go. I went to the airport on Monday in the rain and caught the plane to Birmingham. From there, I got a taxi to Ironbridge and met some Ricoh executives for dinner that night. There was a coach scheduled for 8.00am the following morning to bring us to the factory, so I had to be up at 6.30am. I had planned to get to bed early in order to be bright eyed and bushy tailed the next morning, but between one thing and another, I was kept up socialising until nearly 2.00am. I'm easily lead!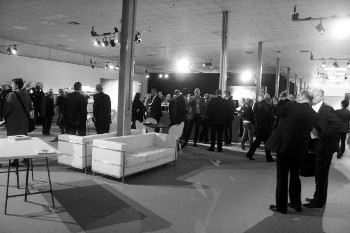 An interior view of Ricoh's Customer Experience CentreThere were about 160 people invited and DPNlive was part of the media group. Ricoh didn't expect that number of people to turn up. So that has to say something for the strength of its brand. It was also the first of eight days showcasing this new facility. So, if the initial first day was anything to go by, they will be entertaining about 1,000 people from all over Europe during this period. We met people from 20 countries including Ireland, UK, France, Netherlands, Germany, Sweden, Spain and Italy. And that was only their first day.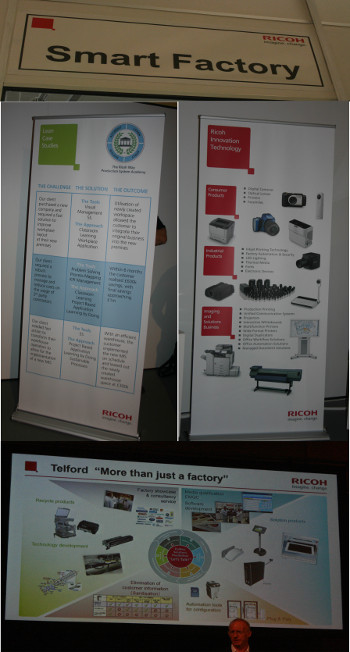 Ricoh Smart FactoryRicoh introduced their strategies on lean manufacturing and kaizen concepts (lean and kaizen are part of the World Class Business concept – WCB –that include the elimination of waste, quality improvement, JIT, continuous improvement – "there is always a better way". When I studied WCB, I remember that a 1% improvement every day delivered 365% improvement at the year-end), new inkjet developments, re-manufactured machinery and consumables, new innovations and research, new machinery that they are trying to future proof, machinery that can be built on a modular basis, etc. You may want to look at these articles http://synergy.ie/index.php/training/management-business/wcb and http://synergy.ie/index.php/consulting/management/industrial-engineering.
The centre comprises a very large demonstration area, an impressive theatre that can hold about 200+ people and a fully working factory. On entering the plant, I was suitably impressed with the size of it. The plant sits on its own site, with well manicured lawns, consisting of offices, factory and the Customer Experience Centre.
It's the first of its kind for Ricoh in Europe and after having experienced some of their professionalism first hand, I have no doubt it will meet their needs well.
We were shown:
The Ricoh Pro™ VC60000 continuous feed production inkjet platform designed to produce direct mail, books and marketing materials using Ricoh's own inkjet heads and unique multi drop on demand ink jetting technology for first class quality on a range of substrates.
The Ricoh Pro™ C9100 series of durable colour cut sheet high volume digital presses suited for larger commercial printers seeking to start up or expand their hybrid digital and offset workflow.
The Ricoh Pro™ C7100X series of digital colour cut sheet presses, equipped with a fifth colour station allowing applications with clear gloss or white, offering print services providers significant additional revenue opportunities.
The Ricoh Pro™ C5100 series of light production models that offer a flexible solution for printers looking for high quality in-house print capability.
The Ricoh Pro™ L4100 series offering 4, 6 or 7 colour configuration options, a wide range of orange, green and white inks, low temperature latex ink technology and superior print quality using Ricoh's own print heads.
Recent software releases such as TotalFlowBatchBuilder, an easy-to-adopt, hardware-agnostic production management tool designed to allow print jobs to be batched together in the most efficient manner. TotalFlowBatchBuilder is the latest member of Ricoh's software family that includes a variety of solutions to streamline and control print production, including Ricoh ProcessDirector and the TotalFlow production management suite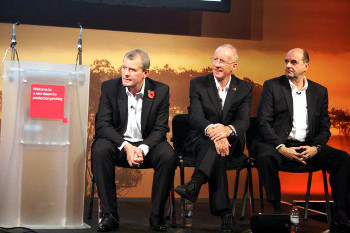 The three men in black. Graham Moore Business Development Director, Dr. Peter Williams Executive Vice President, Head of Production Printing Business Group, Ricoh Europe, Benoit Chatelard General Manager Solutions of Ricoh Europe.Dr Peter Williams, Executive Vice President, Head of Production Printing Business Group, Ricoh Europe, introduced the day. He explained that they have 1000 people across Europe including 600 service engineers, that they are in 22 EMEA countries and that they have 40% Compound Annual Growth Rate over the past five years. He said that Telford is more than just a factory. It is a 'smart factory', a show centre, a consultancy service, it recycles product, it has technology development, offers training qualifications, software development, designs product solutions and automation tools, to mention a few.
Dr Williams commented, "This end-to-end print production centre of excellence is designed to bring together and make available Ricoh's wealth of expertise and experience in production printing and manufacturing. This will not only help existing clients to evaluate new applications, substrates and more, but it also shows them the breadth of offerings from Ricoh that can help them improve both productivity and profitability."
He added, "Our entire production printing line is integrated under the 'smart factory' concept, connected for maximum innovation, productivity and efficiency." (There's kaizen again!).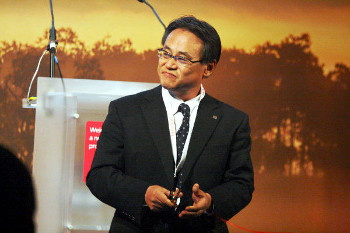 Mr Tadashi Furushima, Corporate Vice President of RicohThen he introduced Mr Tadashi Furushima, Corporate Vice President of Ricoh, who travelled from Japan for the event. He cut the tape to officially open the centre and said a few words – a very few words!
The Business Development Director, Graham Moore, explained how Ricoh had nearly 52% market share in Western Europe in the first half of 2014 and that they were number one in cut sheet colour production presses and number one in cut sheet mono production printers. He gave some market insights related to direct mail and catalogues and explained the difference between North America and Europe. Relevant to non print related services Graham said that in NA, 90% of providers offered more that print, which compared to only 78% in Europe. The region was ahead of Europe in adopting inkjet and digital colour printing and that NA use machinery that combines offset printing with inkjet heads. He explained the changing markets in various sectors and how Ricoh were leading the way in environmental management.
Benoit Chatelard, General Manager Solutions of Ricoh Europe, brought us through various opportunities related to CRM and supply/demand, the Avanti Slingshot, TotalFlowBatchBuilder and Ricoh Pro VC60000. He gave us a short lesson in business economics and profitability where profitable businesses "have an intimate understanding of costs, they know where they are taking their business, and they have a passion for continuous improvement." (More kaizen!).
Ricoh Pro C7110Simon Tapley, Manager of Workflow Solutions Ricoh Europe, expanded the TotalFlow system, explained the Marcom System and MIS solutions with Avanti Slingshot. He also talked about Ricoh's Colour Management and the handling of a large number of digital jobs from ordering through planning, pre-press, press and post press. Simon told us about the new app for your mobile phone called CP Clickable Paper and how it compares and improves upon QR codes.
The factory tour explained a number of lean manufacturing case studies, how Ricoh customises solutions for clients, some innovation technology products (I saw a robot driving around towing a trailer with a large roll of paper without hitting anything). The factory re-manufacturing system was explained showing how a machine is stripped down to its bare chassis and rebuilt, the order process flow system, the concept of the 'smart factory', the training and qualification centre, the 'zero to landfill' concept where, for example, all toner cartridges are refilled and refurbished.
Ricoh Pro VC60000I saw the massive Ricoh Pro™ VC60000 in action and how it is a modular system that they have built in parts of the machine that have not even been invented yet and that it is duplex print. It can handle 120m/min, has 1200 dpi inkjet heads with variable drop size, dynamic print head positioning and optional undercoat and protector coat units.
The C9100 series was also demonstrated and is available in 110 and 130 ppm models and can accommodate up to 400gsm duplexed. It can print banners up to 700mm long and is suitable for use with textures, transparent and colour media.
Ricoh Pro L4100We were shown the L4100 series roll to roll wide format printer which prints in 130cm and 160cm widths for both indoor and outdoor applications. The L4160 and L4130 deliver high print productivity and quality as a result of technological innovations which include the Ricoh piezo electric print heads and can print at over 18 M2 per hour.
All in all, Ricoh not only supplies printing machines and consumables, it offers consultancy and offers solutions, advises on costs and profitability (they understand that if their customers are profitable, then they will be profitable) and generally provides a fully rounded service. My understanding is that they want to be your partners in business.
You can read our editorial comment here http://dpnlive.com/index.php/news/general-news/editorial/2716-editorial-comment.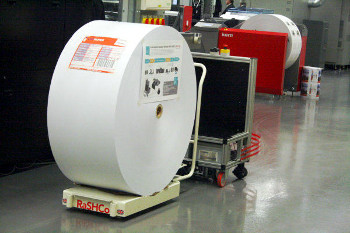 Robot with trailerExclusive review of Ricoh's new 'Customer Experience Centre' in Telford, UK by
Bob Tallent, co-publisher of DPNlive
You can Tweet, Like us on Facebook, Share, Google+, Pinit, print and email from the top of this article.
Copyright © 2014, DPNLIVE – All Rights Reserved.