Local students discover digital print at Hybrid Services.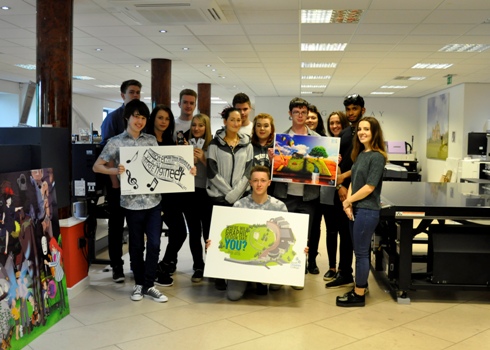 Graphic Design students from South Cheshire College For the second year running, Mimaki's UK and Irish distributor, Hybrid Services has played host to graphic design students from its local educational institution, South Cheshire College, UK. After a complete showroom rebrand from students in 2014, this year the 16-18 year olds were given an exclusive free run of Hybrid's extensive showroom; and the complete Sign & Graphics and Industrial Products portfolio of Mimaki printers in order to create finished products from their own designs.
Hybrid's national sales manager for Sign & Graphics, John de la Roche welcomed the opportunity to host the students again; "We are proud to continue to be a learning partner to South Cheshire College and it is a great opportunity for us to give experience in wideformat printing to the next generation of designers who may be coming up into the industry over the next few years. It's important to do our bit to preserve the future of print and show young people exactly what the current Mimaki technology is capable of and what this means for them in graphic design terms."
"This year the students each created a unique piece of design within the areas of surface pattern or digital imaging and the depth and range of the work achieved was outstanding," continued de la Roche. "It was fantastic to witness the responses of the students as they got to see everything from the newly released Mimaki CJV150-75 entry level printer-cutter up to the grand format JFX200 LED UV flatbed bring their designs to life. This 'real' life experience is invaluable for them as they move on to further qualifications or out into the workplace."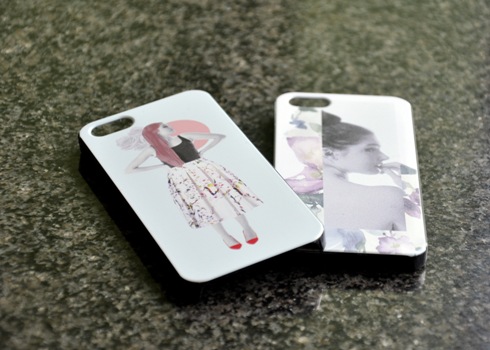 iPhone cases printed by the students with Mimaki UJF-3042 The extensive Mimaki showroom at Hybrid is held within its headquarters in Crewe, Cheshire and is home to an extensive range of wideformat printers and cutters, including solvent, UV, latex and SUV ranges which allow for an extensive and varied number of applications to be achieved. The students brought their own designs along and, under the watchful eye of Hybrid's print technicians and training team, worked through the entire printing process, from Mimaki's Rasterlink RIP package through to printing and finishing.
Assistant Director for the Arts and Media at South Cheshire College, Laura Sumner commented on the value of the project for the students; "It has been a great opportunity for the graphic design students to see their ideas through to an end product. They have gained tremendous perspective from the experience at Hybrid and it has given them confidence to think further about where design can take them, especially in relation to the printing industry."
For further information about Hybrid Services Ltd and Mimaki products visit www.hybridservices.co.uk or telephone 0044 (0) 1270 501900. For further information about South Cheshire College visit www.scc.ac.uk.
You can Tweet, Like us on Facebook, Share, Google+, Pinit, print and email from the top of this article.
Copyright © 2015, DPNLIVE – All Rights Reserved.