HP Latex 3000 3.2m wide printer

the showcase of the event.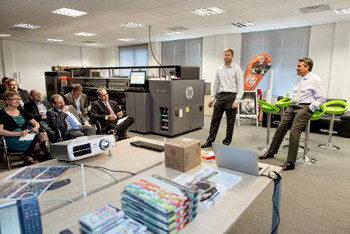 Standing at the front from left, CWE Commercial Director Graham De Kock and Managing Director Doug Gilbertson at the CWE open dayUK based City & West End Solutions Ltd (CWE) held the first in a series of open days showcasing the HP Latex 3000 3.2m wide printer at its state of the art demonstration room in Chessington on Thursday, 13th March.
The event was aimed squarely at wide format print providers and signmakers looking to expand their product offering. During the HP Latex 3000 seminar at CWE, particular attention was made to highlight the rapidly growing demand and expanding market for digitally produced wallcoverings – wall décor and wallpapers.
The guest speaker on the day was Terry Raghunath, responsible for wallcoverings across Europe for HP. Managing Director of CWE, Doug Gilbertson said; "We wanted to show what was possible with this new Latex technology. Terry presented a very thoughtful insight into the market today and predictions of growth. We are only tipping the iceberg and yet the demand in the UK for digitally printed wallcoverings and art is growing daily. The UK is amongst the top five countries in Europe for demand in this area and we are keen to ensure that our customers and future HP Latex print solution providers are well equipped to go after this, and other lucrative markets."
Alan Watson, Manager at print service specialist OPG commented on the day; "As ever, the information and samples were both informative and inspirational; no doubt, this will shape our thoughts regarding our business development, product portfolio and marketing strategy. We look forward to growing our business, confident in leading with HP technology, supported by CWE."
For more information on the HP Latex 3000, visit www.cwesolutions.co.uk or call 0044 (0) 8444 829895
0044 (0) 8444 829895.
Follow us on Twitter - @DigiPrintNews
Like us on Facebook www.facebook.com/DPNLive - (click the 'LIKED' button/top of page as well)
Copyright © 2014, DPNLIVE – All Rights Reserved.