Co-operation agreement with Color Concepts.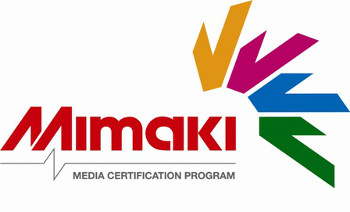 Mimaki Media Certification ProgrammeIndependent, third-party certification of media for use with Mimaki's JV400LX printer and latex inks is now available after Mimaki Engineering Co. Ltd. announced it has teamed up with Color Concepts, a leading independent creator of media profiles.
The new Mimaki Media Certification Program (MMCP) is available to providers of media in Europe, the Middle East and Africa (EMEA) that are suitable for the JV400LX printer. Mimaki is hoping to expand this program to other Mimaki printers and ink technologies in the future.
"We are very excited to be launching this EMEA Media Certification Program," said Mike Horsten, Marketing Manager of Mimaki Europe. "In working with Color Concepts to construct the program, we focused on ease of participation on the part of media suppliers as well as building in extra benefits for approved media. This includes marketing by Mimaki on behalf of media suppliers at key trade shows and events beginning with Fespa Digital 2013, as well as online and in print advertising. Suppliers of approved media can also participate in a special swatch book program that will give their products extra visibility in the marketplace."
One benefit for media suppliers whose media is approved through the Mimaki Media Certification Program is that they will be able to use MMCP logos that demonstrate a solid relationship with the Mimaki brand. Another is the ability to be able to take advantage of Mimaki's marketing muscle and have their profiles available for download by JV400LX users at http://www.mymimaki.com, which will be launched shortly. Mimaki has said that participants can already easily register, apply and submit profiling orders online at http://mimaki.color-base.com, where they will also be able to check on the status of their media certification.
The company said that it will offer end users information about new available profiles or updates of their current profiles that have been downloaded via the MMCP system. Distributed in the UK & Ireland by Hybrid Services Ltd, its national sales manager, John de la Roche anticipates strong user demand. "Utilising correct profiles gets the most out of your Mimaki," he said. "Working with key media suppliers ensures our customers benefit from output of the highest quality."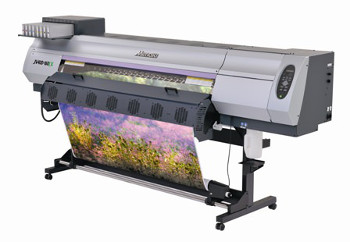 Mimaki JV400LX is first printer for MMCP schemeAlso as part of the program, Color Concepts will produce special MMCP Media Swatch books printed to Mimaki's quality standards. The reason is that this process makes swatch books available with minimal effort on the part of the media supplier. The swatch books will be distributed free of charge to Mimaki dealers and distributors, latex customers, and at Mimaki tradeshow stands for a broad distribution throughout the EMEA region.
"We chose to partner with Color Concepts for this important initiative," added Horsten, "because they are the world's number one creator of external profiles and are very well respected in the industry. Color Concepts has its own lab equipped with printers for profiling. This means that media suppliers who do not have profiling systems in place can easily contract with Color Concepts to make those profiles as part of the certification process."
Follow us on Twitter - @DigiPrintNews
Like us on Facebook www.facebook.com/dpnlive - click the 'LIKED' button/top of page as well
Copyright © 2013, DPNLIVE – All Rights Reserved