Life-sized printed beagles show the way at Mountain Bike Event.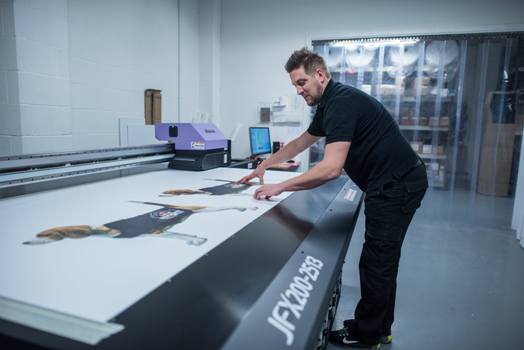 Creative Solutions Matt Austin working with the JFX200-2513 When the Red Bull Fox Hunt mountain bike event returned to the Pentland Hills outside Edinburgh, Scotland, recently, the organisers decided they needed something a bit different in terms of event signage. Enter Axminster-based Creative Solutions who were tasked with coming up with an inspired concept.
Operations Manager and co-director of Creative Solutions; Jedd Whittington explained;
"We've been fortunate enough to work with Red Bull on a number of interesting projects since first being recommended over five years ago by a contact at Lyme Regis harbour where Red Bull were hosting a wakeboarding event, and we're delighted that they continue to trust us to deliver signage and graphics for a number of major high profile events."
The Fox Hunt format has been running for a number of years in Northern Ireland and in 2014, Downhill World Champion Rachel Atherton decided to launch a women-only version. Now this is no ordinary fox hunt as you and I would understand it to be. Instead, it pits Rachel as the Fox - against the Hounds; more than 100 female mountain bikers in a mass-start race that turns the traditional concept of a fox hunt on its head. It see's the Fox chasing down the pack, attempting to pass as many riders as possible before reaching the end of the course.
"I thought it would be so cool if we could get more women racing." commented Atherton. "I wanted it to be a really welcoming way to get into competing. For a lot of people, it's the first race they've ever done, and that's awesome."
Whittington takes up the story from his company's perspective;
Beagle foxhunt print"One of the key requirements was to print over 40 life-sized images of a beagle dog onto rigid PVC boards to be used as way-markers around the course, acting as a tongue-in-cheek reference to a real fox hunt. Our recently installed Mimaki JFX200-2513 LED UV flatbed printer was the perfect machine for the job, coping easily with the demand of high quality, high volume print."
Creative Solutions originally started out in 1999, producing relatively simple vinyl banners from its modest premises in Lyme Regis in Dorset. The business continued to expand and develop by producing an increasingly wide range of signage, exhibition graphics and other wide format print. In 2014 they moved to new premises in Axminster, Devon, where they now undertake all design, production and assembly in-house. This has provided a much greater deal of control over the quality of product they dispatch, as well as better management of turnaround times.
As everyone knows, in today's competitive markets, adding value is critical to business growth, and being able to respond to customers' print requirements with ever more diverse products means having the necessary skills and experience, but equally importantly, having the right equipment for the job."
Whittington has nothing but praise for his stable of Mimaki kit.
"Since installing our first Mimaki printer in the early 2000's; a JV3, we've come to depend on their inherent reliability," he said. "We've had another JV3 since then, a JV33 and more recently a JV150-160 as well as the JFX200. The way in which technology has developed the capabilities of subsequent machines is very impressive; improved resolution and quality of output is amazing and the speed at which they can deliver this sort of quality is breathtaking and improves both our productivity and profitability."
Whittington is also appreciative of the support he's had from both Hybrid and their reseller; CMYUK, adding;
"On the rare occasions a problem has arisen, the support from Hybrid has been superb, with the purchase and installation of the new JFX200 being handled in a highly professional manner by CMYUK, which was a huge relief as this was a significant investment for our business and a step into new territory for us."
Whittington has no doubt that Creative Solutions continued outlay in a high quality arsenal of print and cut kit has had a major impact on their ability to retain and develop high- profile clients such as Red Bull;
"A brand like Red Bull is always looking to push the creative boundaries and we work very closely with them to develop branded graphics and supporting materials which really make an impact. They demand the highest quality and very often to tight deadlines. The new equipment enables us to take on these kinds of commissions with real confidence."
The 2015 Red Bull Fox Hunt proved to be a real success, with the event sold out in hours, and it's easy to see why; the atmosphere at the weekend event is renowned for being fun, friendly and inclusive, with first-time racers as welcome as seasoned riders. No doubt Creative Solutions can take genuine pride in having played their part in such an exciting and successful event, as well as looking forward to the next.
Further information about Creative Solutions can be found on their website; www.creative-solutions-direct.co.uk or by calling 0044 (0) 1 297 630130. Mimaki's full product range can be found via its UK and Irish distributor, Hybrid Services at www.hybridservices.co.uk or by telephoning 0044 (0) 1270 501900.
Time-lapse: Direct Print Red Bull Beagle by Creative Solutions
You can Tweet, Like us on Facebook, Share, Google+, Pinit, print and email from the top of this article.
Copyright © 2016, DPNLIVE – All Rights Reserved.