Three year warranty extends peace of mind

on selected Mimaki printers this summer.
---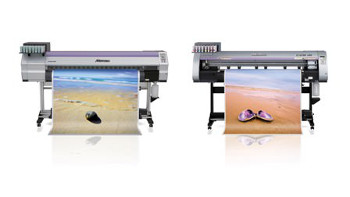 Enjoy a three year warranty as part of Hybrid's summer promotion on selected Mimaki CJV30 and JV33 printersMimaki's UK & Ireland distributor, Hybrid Services Ltd has announced attractive package deals on its very popular JV33 wide format printer and selected CJV30 printer/cutters, which can add up to a nice £5,000 of free extras for purchasers.
---
For a limited period, companies investing in a 1.3m or 1.6m Mimaki JV33 or CJV30 this summer, will get a free three year gold warranty, free inkset, free high end RIP package and cutting software – on products that feature a cutting element, free powered take-up unit, free delivery and build.
Hybrid's national sales manager – sign and graphics, John de la Roche commented; "Both the Mimaki JV33 and CJV30 machines have become firm favourites with our customers and already represent amazing value for money. By making them available to an even wider audience we can help them appreciate the fantastic build quality, proven productivity, reliability and low running costs associated with owning a Mimaki product."
"You can't put a price on peace of mind, but we're confident that an offer like this makes owning a wide format printer a stress-free experience with the benefit of three years warranty and no hidden extras at the outset," he added.
The Mimaki CJV30 Series is a multi-award winning, 'all-in-one' integrated printer / cutter, boasting high end features across the range, with the capability to print onto almost any display material; banner, canvas, paper, self adhesive vinyl, vehicle wrap, backlit, garment marking film and much more.
The Mimaki JV33 is a leading range of 1.3m and 1.6m wide outdoor durable inkjet printers for the sign and graphics professional. Available as a standalone printer, or in attractively priced print and cut packages with Mimaki's CG-FXII cutting plotters, the JV33 offers a choice of inksets including white ink and new metallic ink.
The promotion is set to run throughout the summer and de la Roche said; "This is a great opportunity to invest in proven and high quality wide format equipment, whether you're upgrading or if you have yet to make the first step into wide format production. There really has never been a better time to get on board with two of the very best and most productive machines in the Mimaki line-up. The inclusive package of benefits and three years peace of mind really does make it an easy decision to make!"
http://www.hybridservices.co.uk/

Follow us on Twitter - @DigiPrintNews
Like us on Facebook www.facebook.com/DPNLive - (click the 'LIKED' button/top of page as well)
Copyright © 2014, DPNLIVE – All Rights Reserved.