GJ Plastics joins the 'movers and shakers'

in the signage market.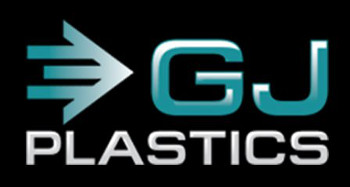 GJ Plastics logo Manchester-based GJ Plastics is fast becoming one of the 'movers and shakers' in the signage market, with the company signing up as the Official sign and Branding Partner for Bury Football Club, also known as the 'Shakers'.
The move into signage by GJ Plastics, a highly regarded designer and manufacturer in acrylics and other plastic materials, follows investment in equipment such as CNC routers, laser cutters, and a HP FB500 flatbed UV printer. Their latest purchase from City and West End Solutions in December 2013 was the Summa F1612 cutter.
"We received an excellent service from CWE during the purchase of the HP FB500 printer, so we naturally talked to them about our requirement for a flatbed cutting table," said Managing Director Graham Croston.
"From the first initial discussions they provided all the information we needed; the Summa was installed promptly and their training was top class."
Summa's F Series is capable of cutting rigid materials as well as roll stock. Automatic tool recognition, combined with digital and mechanical depth control, ensures precision cutting on a wide variety of materials. The base unit comes equipped with a swivel knife tool module and an optical camera recognition system for accurate contour cutting of printed flexible or rigid substrate materials.
The Summa F1612 works alongside the FB500 UV flatbed printer to speed up the manufacturing processes on roller banners, Correx and Foamex signs, and has allowed the company to add cardboard engineering to their already wide product range.
"We can now also manufacture our own cardboard packing boxes, which offers huge – and unexpected - advantages for us," added Graham. "We soon realised that the ability to tailor make each box to be the perfect fit for our huge range of products would mean we no longer have to keep thousands of different sized boxes in stock, making a massive space saving and giving us reduced manufacturing costs."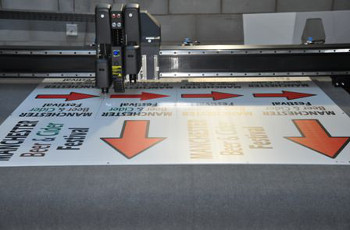 Cutting sign boards on the Summa F1612 cutter Bury FC purchased all its new interior signage from GJ Plastics, as well as the Correx sign boards around the pitch. The company also recently designed and manufactured new signage for Middlesbrough Football Club's training ground, signs in a 12-bed hospice, and bespoke in-store marketing solutions for B&Q, Jewson, Asda, Selfridges, museums, art galleries, the travel and leisure industry, JC Decaux, and Pets at Home to name but a few. They have also provided display solutions for a Formula 1 racing team and Wimbledon.
GJ Plastics has a highly skilled team, with three product CAD designers, three graphic designers and all production processes carried out by qualified engineers. This ensures they can produce any of their product portfolios available on www.gjplastics.co.uk, in a fast and efficient way, to their exacting quality standards.
Graham concludes: "We expect to see continued growth over the next five years, and we'll continue to work with CWE in investing in new equipment to ensure we offer our trade partners and customers the highest quality products, delivered on time and competitively priced."
For more information on Summa cutters and HP printers call CWE Solutions on 0044 (0) 8444 829895
0044 (0) 8444 829895.
For more information about GJ Plastics go to www.GJplastics.co.uk

Case study by BRPR
Follow us on Twitter - @DigiPrintNews
Like us on Facebook www.facebook.com/DPNLive - (click the 'LIKED' button/top of page as well)