XG Graphics continues policy of investing

in state of the art equipment for printing.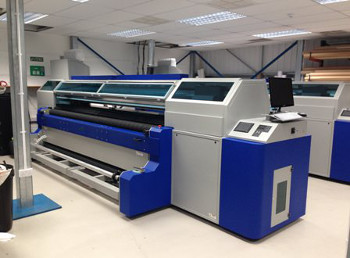 MTEX 5032UK based Xtreme Graphics, known as XG Group, has just installed two new MTEX direct to textile 3.2m wide digital printers, bringing the companies fleet to four in total. XG's motto is 'experts in graphics' which is why it is considered a leading solutions provider in all aspects of large format printing such as banners, displays and flags. To ensure that they maintain a competitive edge in the marketplace the company has a policy of continually investing in state of the art equipment for printing, finishing and display.
Two years ago XG bought the first MTEX 3200 3.2m wide direct to textile printer. A year later, due to high demand for their high quality textile printing on flags and lightweight banners, they purchased a second. Both machines were soon printing in three shifts so this year following the launch of the new MTEX 5032 at FESPA Digital London; they purchased two further MTEX printers.
The last of these new printers was installed during the second week of November by MTEX manufacturer POD Iberia and its UK distributor Digital Print Innovations in less than four hours. That's unpacking, position, level, ink charge, print and testing – a testament to the skill and knowledge and deep co-operative working relationships encouraged by the Portuguese manufacturer.
Earlier this year, XG was hailed for printing one of the largest 'crowd surf' banner's ever seen in Britain. It was produced to mark the 55th anniversary of the Munich Air Disaster and measured 30m wide by 20m high. The banner featured the final line up of the 'Busby Babes' from the game against Red Star Belgrade in 1958, with the words "We'll never die." The giant surf banner was dye sublimation printed using XG's MTEX print fleet at 3m wide onto 115 gsm FR knitted polyester. These drops were subsequently sewn together to form the finished banner.
Warren Verwey, Managing director of XG-Group commented; "Our drive and determination to be the best in the market drove the introduction of the first MTEX 3200 over two years ago. Now we have seen demand for high value, lightweight and durable flags, banners and displays shoot through the roof and both our original machines were working non-stop. The installation of the new MTEX 5032 earlier this week is testament to the quality and importance we place on the growth of this market place. I can tell you I was very pleased that the technicians were able to unpack and install the 3.2m machine with in-line sublimation in less than four hours because it meant minimal disruption and we were up and running by the end of the day. It was amazing service."
Eloi Ferriera, CEO of POD Iberia added; "Warren was a keen supporter of the MTEX brand and product from the very beginning. It is important to us as a company to work closely with all our distributors like DPI in the UK and MTEX customers such as XG to ensure that they have the best service and experiences possible. We know that our products excel in the industry and the fact that XG have just installed their fourth reinforces this position. We look forward to continuing to push the boundaries of digital textile printing with customers like this around the world."
For more information on the XG Group go to www.xtremegraphics.co.uk
For more information on POD Iberia go to www.podiberia.com
Follow us on Twitter - @DigiPrintNews
Like us on Facebook www.facebook.com/DPNLive - (click the 'LIKED' button/top of page as well)
Copyright © 2013, DPNLIVE – All Rights Reserved.