Antalis helps Graham & Brown turn concept

into reality with show-stopping results.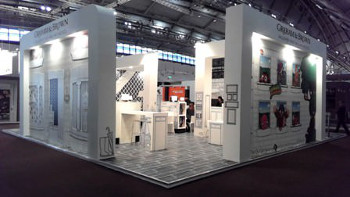 Antalis Graham and Brown Stand Making an impact is something that comes naturally to global Wall Decoration manufacturers Graham and Brown, a company that has been specialising in the design and production of innovative wallpapers and wall art since it was established in 1946. But when planning its stand for this years' Heimtextil exhibition in Frankfurt, Germany, Graham and Brown turned to Antalis UK to help execute one of the company's most spectacular and sensational stands at the event.
Proof to Production Coordinator at Graham and Brown Julian Kellett explains; "Our range of wall covering designs certainly speak for themselves in terms of attracting attention, but it's always a challenge to think of new ways to present our products and this year was no different. We wanted to create something unique that would communicate the versatility of our designs. We finally developed the perfect concept, but then needed help when it came to delivering our vision and turning our concept in to reality."
It was early on in the design and planning stage that Kellett turned to Antalis for input and advice on selecting the right substrates that would help convert their creative ideas into something that would present a show-stopping exhibition stand. Antalis had worked with Graham and Brown for several years and built up a good working relationship, and was therefore able to get involved at the beginning to brainstorm specific requirements and advise on the latest innovative products that could meet Julian's needs.
Central to the success of the stand design was the need to create a complete home environment using illustrated furniture in bold black and white designs to represent different parts of the house, and hard wearing printed graphics on the floors, all against the backdrop of its vibrant wall papers and wall graphics.
Continues Kellett, "Essentially, our challenge was how we were going to 'draw' on hired furniture and cover the floor with a special wallpaper design created by one of our famous design friends Hemingway Design. What we needed was something that would enable us to apply printed graphics to furniture, that would not only look good and stand up to the wear and tear of the show, but would also be easily removed once the show had finished. As we only rent the furniture for the duration of the event, it was imperative that it wouldn't leave any marks or damage on the surface of the furniture."
Having listened to the specific requirements of each application, Joe Kennedy, Sign and Display Product Manager at Antalis UK suggested covering the furniture using YUPOTako(r), a UV 1270mm self-adhesive film that uses micro-suction to adhere to surfaces. Not only did the YUPOTako film work well with the company's Oce Arizona 360 GT flatbed wide format printer to deliver clear, high quality print, its special suction properties eliminated the need to use adhesive, allowing for easy removal without leaving any sticky residue or markings on the rented furniture.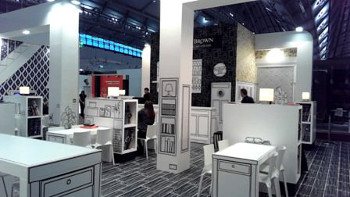 Inside the Antalis Graham and Brown Stand For the floor graphics, Joe advised on using a two-part Drytac system comprising Drytac Floorprint, which was also printed in-house on Graham and Brown's Arizona 360GT, then overlaid with Drytac Interlam Pro Emerytex to create the extremely durable, non-slip floor covering.
Kellett, the stand builders and the Graham and Brown sales team were delighted with the results. Says Kellett, "Heimtextil is the largest exhibition of its kind attracting over 66,000 visitors from some 134 countries, so competition is always fierce amongst exhibitors and it was therefore essential to stand out from the crowd - which we certainly did!"
"Thanks to Antalis, the substrates they provided really fulfilled the job and produced fantastic results. The YUPOTako(r) micro suction film provided the perfect solution to our need to apply temporary graphics to the hired furniture without causing damage, and the Drytac floor covering stayed in perfect condition throughout the show, without any detrimental effects from the high volume of visitor traffic to our stand. And, by working closely with Antalis, any potential printing issues were addressed prior to production, which made the whole process efficient and stress-free."
"When we finally unveiled our 2014 stand at Heimtextil, it was a resounding success and extremely well received by the exhibition organisers, our sales team and customers as well as our stand building specialists who hailed it as the best stand for 20 years."
Issued on behalf of Antalis UK by AD Communications
Follow us on Twitter - @DigiPrintNews
Like us on Facebook www.facebook.com/DPNLive - (click the 'LIKED' button/top of page as well)