Delivering a wide spectrum of creativity, inspiration and choice.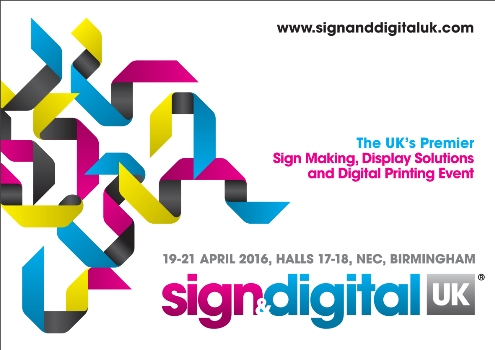 Sign & Digital UK 2016, the UK's Sign Making, Display Solutions and Digital Printing Event, which will be held from 19th – 21st April at the NEC, Birmingham in halls 17 & 18, is all set to deliver a landmark showcase for the industry.
With nearly 30 years serving the industry, Sign & Digital UK has seen impressive growth in recent years, cementing its reputation as the UK's buying event with many new product launches and show offers. Over 200 exhibitors and 6,800 visitors attended the 2015 event.
The show's theme ''Delivering a wide spectrum of Creativity, Inspiration and Choice'' sums up the focus of the annual event that plays a key role in showcasing what is new, game changing and essential to keep businesses in good shape for the future.
''In this fast paced market, Creativity & Inspiration are key ingredients that drive the industry forward and making the right Choice from the wide range of products on offer at SDUK will help to keep your business competitive. You can see all aspects of the industry at the show, from soft signage, lighting, engraving, sign fixings and fittings, and display systems, through to the very latest wide format printing and finishing equipment, from the leading manufacturers and suppliers '' comments Rudi Blackett, Event Director for Sign & Digital UK.
In tune with this year's theme, new show branding, a new look website and colour co-ordinated show logo have also been unveiled.
Stand bookings for Sign & Digital UK 2016 are currently running at 20 per cent ahead of the same time last year, and the show will feature many new as well as returning exhibitors, such as KIP, Daltons Wadkin, Perfect Colours, Complete CNC, Epson, Hewlett-Packard, Colourbyte, Biesse, Complete CNBC, Inktec/Jetrix, Grafityp, Radecal, I-sub, CMYUK, Your Print Specialists, AG/CAD, Graphic Printing Technologies, printMAX and many more.
Survey Results
The post show survey of visitors to Sign & Digital UK 2015* really highlighted just how important the show is in terms of delivering Creativity, Inspiration and Choice. The visitor audience are primarily buyers and decision-makers who run their own businesses or operate at a senior management level. They use the event to contrast and compare products in order to make the right buying decisions, as well as source new suppliers.
88 per cent of visitors agree that Sign & Digital UK is a great place to meet potential new suppliers
89 per cent of visitors agree that the show is the place to learn about new technology and product launches
87 per cent of visitors authorise, specify or influence the buying decision
49 per cent of visitors have not attended another event in this sector in the last two years
*Source: Independent visitor research by Zing Insights, April 2015
For more information about exhibiting in 2016, please contact the show team on
0044 (0)1342 332000, or email This email address is being protected from spambots. You need JavaScript enabled to view it.
Press release by Faversham House
http://www.innovaart.com/
You can Tweet, Like us on Facebook, Share, Google+, Pinit, print and email from the top of this article.