Expertise, experience and service central to retaining customer loyalty.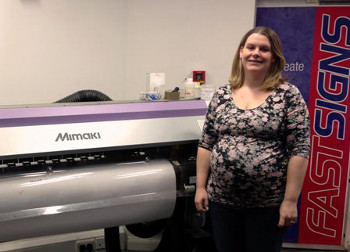 Fast Signs' network's youngest franchisee, Gill Brown of the Derby branchIn December 2009, Gill Brown became the Fast Signs' network's youngest franchisee in the UK. Previously a bid manager in the IT industry, Brown brought solid project management and sales skills to her new venture and now with her young team of five staff runs the Derby branch of Fast Signs, a leading global signage franchise company.
Fast Signs Derby serves a broad range of local clients from its high street location. "Our business is not simply about selling signs," says Brown, "It's about giving our customers a positive experience. We listen to clients and aim to fully understand their requirements so that we can recommend the best possible solution from a broad range of options. We give customers a level of service that ensures we retain their loyalty and, most importantly, their future business. This is central to how we work."
She gave an example of how a local hairdresser came in with a very general brief for a sign. Through the company's in-house design service, a lot of listening and some intricate manufacturing, the hairdresser is delighted with her salon's brushed stainless steel signage. "This particular client invested in a premium product that was never going to be the cheapest option, but was right for what they wanted." explained Brown.
When it launched, Fast Signs Derby invested in a Mimaki JV33 outdoor durable printer, Mimaki CG-FX cutting plotter and Hybrid Titan laminator from reseller Graphic Printing Technologies (GPT). Brown appreciated the franchise support and advice they received, drawing on the training and backup of a time served operation. "We were guided in the right direction," she recalls, "The Mimaki has been a great asset to the business and GPT has been a supportive and very knowledgeable supplier."
This equipment has been used to fulfil a large contract for the Derbyshire Fire Service; producing and applying vehicle graphics to a fleet of 30 appliances and half wraps to additional ancillary vehicles in order to promote the organisation's current 'Think Sprinkler' campaign. A series of hard-hitting visuals were produced on the Mimaki JV33 printer before being laminated to protect them from the elements and abrasion.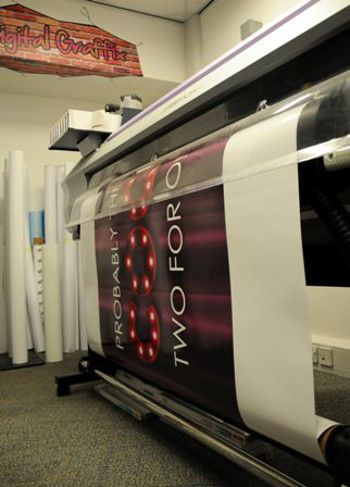 Fast Signs Derby's Mimaki JV33 has stood them in good stead from day one.Brown adds, "As a group, we are open to new ideas and are certainly not set in our ways. The team is always willing to consider new technologies, new opportunities and new ways of working. This has resulted in the business turning a profit, both for Fast Signs and our customers, despite the difficult trading conditions of recent times."
Brown concluded, "The big contracts, such as the fire brigade, recent work for the National Trust and signage produced for a large care home group, pay well and bring in good business. But it is also the existing customers returning for more and helping the local businesses starting up that make this job so rewarding, interesting and, most of all, successful."
Further information on Fast Signs Derby can be found by visiting www.fastsigns.co.uk/886 or by calling 0044 (0) 1332 861690. The full range of Mimaki's products is distributed in the UK and Ireland by Hybrid Services Ltd – www.hybridservices.co.uk and GPT's homepage is www.g-p-t.co.uk.
---
Follow us on Twitter - @DigiPrintNews
Like us on Facebook www.facebook.com/dpnlive - click the 'LIKED' button/top of page as well
Copyright © 2013, DPNLIVE – All Rights Reserved