THE Kew Workshop takes centre stage

as a proud ROLAND user.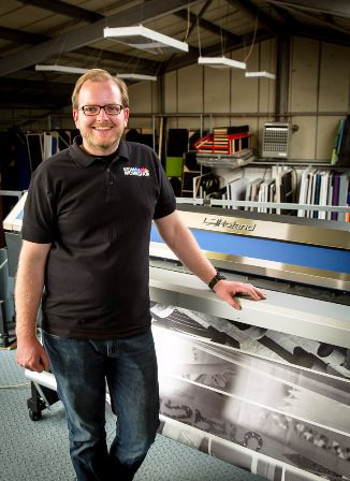 Tom McLaughlin - Roland UserSouth-west London set design and construction specialist, The Kew Workshop, has been named as the latest company to join Roland DG's 'I'm a Roland User and proud of it' gallery. The video testimonial can be viewed, along with earlier participants, at
www. rolanddg.co.uk/i_am_proud_kew_workshop/
---
"I am delighted to join the 'I'm a Roland User and proud of it' family," says Tom McLaughlin, Design Director at The Kew Workshop. "Like Roland, we are delighted to stand up and be counted as a company that delivers the best possible results to its customers. We'd recommend a Roland machine to anyone looking to buy. They're brilliant. Reliability has never been a problem with Roland, they've kept us running and every machine has always paid for itself within a matter of months."
The Kew Workshop Company specialises in designing and building sets for award ceremonies, conferences and exhibitions. The company's first investment in a Roland machine, eight years ago, was to enable it to produce professional looking event signage in-house.
"For one of our events we produced nearly 1,000 signs, from small table signs and vinyl decals to very large banners. Our three Rolands – a VersaCAMM SP-300, a VersaCAMM VP-540 and a SOLJET PRO4 XR-640 – which all print and cut, gave us the versatility to produce the wide variety of signs required for this show all in-house. We even ship the SP-300 with the signage as an onsite solution for last minute jobs. Integrated printing and cutting saves a lot of time and effort and enables us to respond to customers much quicker and more efficiently. Much of our work is very last minute but we are never concerned because even if a Roland has remained idle for a week, we know we can use it straight away without any problems. Our seven year-old machine, the VP-540, has run all these years without a hitch, no parts have needed replacing – we have just cleaned it and serviced it as Roland recommends," continues Tom McLaughlin.
As their business has grown, the Kew Workshop has expanded its Roland capability. Its most recent investment is a Roland 64 inch wide SOLJET PRO4 XR-640, which prints at up to 49m2/h and offers huge flexibility and versatility. "The PRO4's versatility means never having to say no to a client. We can always find a substrate on which we can print and so resolve what they had thought was a problem – Roland enables us to exceed our customers' expectations and be a problem solver," says Tom.
Concludes Gillian Montanaro, Head of Marketing, Roland DG UK: "It's great to have Kew as the latest member of Roland's "I'm a Roland User" video gallery, which shows the diversity of Roland's customers and the positive impact purchasing a Roland machine has had on their businesses.
"Kew is a very interesting business. Because of the nature of the exhibition industry, many of their clients demand the highest quality products often within almost impossible turn-around times. With their growing portfolio of Roland machines, Kew can deliver this for its clients time after time."
*The latest video instalment of Roland's national tour of customers now online
Feature by Roland DG (UK)
www.rolanddg.co.uk
Follow us on Twitter - @DigiPrintNews
Like us on Facebook www.facebook.com/DPNLive - (click the 'LIKED' button/top of page as well)