Company has designs on developing the

'last minute' market with HP Designjet Z6200.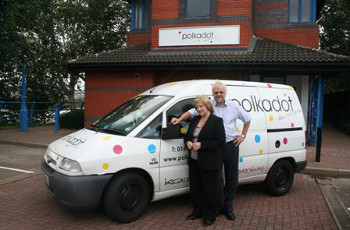 Polkadot - Bruce and Elaine After a decade of loyal service from their wide format HP printer, Polkadot Design and Print in Salford (UK) decided it was time to upgrade.
The move up to a newer HP Designjet Z6200 from CWE Solutions was a natural progression, as was the move they made away from the Kall Kwik franchise two years ago.
Bruce Shepherd and partner Elaine set up the business in July 1999, but as they learned more and gained experience they wanted to spread their wings and further develop the company under their own steam. While they started afresh as Polkadot, their long serving team remained in place, retaining all their skills and expertise.
As the business developed, wide format print has remained a key part of their growth. This year they decided to invest in a HP Designjet Z6200, to ensure they could deliver on the ever-increasing customer demands for top quality wide format print – often ordered at the last minute.
"When we first started our business, much of our time was spent running around delivering hardcopy proofs for clients for sign off," explained Bruce. "Few customers knew much about a PDF file, and the digital age was only just beginning. Today, all of our business arrives in 'digital' format, either by e mail, or via our website, where we have facilities to handle ever increasing file sizes.
"We chose to upgrade to the HP Designjet Z6200 as it's super-fast and efficient for posters, roller banners and displays, with outstanding, vibrant colours. We also needed a faster RIP, and Onyx RIP software is probably the best in today's marketplace."
Polkadot decided to purchase the printer through CWE Solutions, a leading supplier of wide format print solutions, after they had a look around the market. CWE became first choice thanks to its knowledge of the large format market and expert advice on choosing the right technology for the company's application requirements.
"We quickly established that they were specialists. The installation went like a dream, and it was clear we were working with experts who knew exactly what they were talking about," added Bruce.
"Having looked at other printers the HP Designjet Z6200 was a natural progression from our previous HP Designjet 5000. A business like ours can't just buy single pieces of kit, and then sit back. We need to keep up with industry developments with constant and steady investment."
The HP Designjet Z6200 was installed in September, and is proving faster and much more efficient, with roller banners dry before they even hit the floor. CWE Solutions maintain it's the fastest printer in its class, easily meeting client demands with print speeds up to 140 square metres an hour.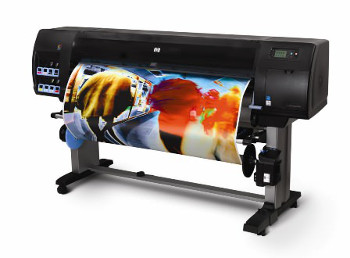 HP Designjet Z6200 Bruce said: "The most common question we get is 'when is the latest I can get the artwork to you to meet my deadline?' With digital print, as the relative costs have come down, customer expectations, especially regarding deadlines have gone up.
"In the first week with the new HP, we had an order for roller banners, where the client couldn't get the artwork to us until 7pm but wanted to collect them before 9am the next day. When we got the file through, we set up the print remotely from home and Elaine went in at 6am to organise the finishing process. The finished banners were collected by a very happy customer at 8.30am."
Polkadot is based a stone's throw from Media City in Salford and a courier goes out every day with deliveries across Greater Manchester and the rest of the UK. "Being local can still count, as some customers like to see you face to face, but the majority of our business is spread right across the UK," continued Bruce.
"What does matter is the ability to evolve and be responsive to the market. We don't just do graphic design and print – we take our clients through the whole marketing mix of opportunities, including direct mail, email, point of sale and website activity. It's a real cross media platform these days. So very different from how we started in business 14 years ago.
"It's been a tough last few years, given the UK economy, but we can see people now beginning to invest more in marketing and training as the UK market starts to pick up."
For more information on the HP Designjet series, call CWE Solutions on 0044 (0) 8444 829895.
For more information on Polkadot, visit www.polkadotdp.com
Case study by BRPR on behalf of CWE Solutions (edited)
Follow us on Twitter - @DigiPrintNews
Like us on Facebook www.facebook.com/DPNLive - (click the 'LIKED' button/top of page as well)