Company invests in ESKO Kongsberg XN24

to service expanding retail market.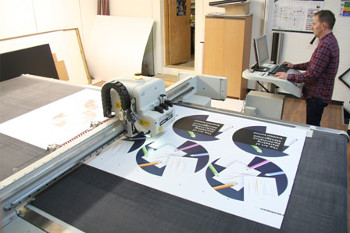 Colouration Kongsberg XN24 An investment in large format print capability would be limited without a complementary investment in cutting edge finishing, and South West London-based Colouration chose the ESKO Kongsberg XN24 flatbed cutter purchased from CWE Solutions as an integral part of their recent expansion.
Colouration is one of the UK's leading creative agencies in large format graphics and point of sale applications for luxury brands and the retail environment.
Initially set up as a litho print company approximately 13 years ago by Managing Director Tony Dennington, Colouration found they were outsourcing enough work to warrant an investment of their own in large format printing.
Operations Manager Dave Mays joined Colouration in 2012 to lead their expansion programme in large format printing, in order to take advantage of the burgeoning digital market.
And with a fleet of large format printers including a couple of HP Designjet Z6100s, Oce Arizona's and a Chromira for continuous tone photo print, Colouration needed a cutter capable of working with a wide variety of media.
Operations Manager Dave Mays said: "We can work with vinyl, printable wallpapers, backlit film, display board, paper, foam, folding carton, corrugated board, and plastics, and the Kongsberg delivers the best quality cutting for any job or application. It's fast, and it's accurate.
"We pride ourselves in being experts in the retailing environment and going above and beyond to achieve the best results for each of our clients.
"That's why we're not afraid of investment, and making sure we're up to date with new technology to deliver visual solutions that are second to none."
The Kongsberg XN24 is a very versatile cutting machine, using i-cut vision pro software and laser recognition hardware. The Kongsberg XN24 table offers a maximum cutting size of 3.2M x 1.68M. For bigger sizes see www.CWEsolutions.co.uk/finishing
"As well as roll feed, we've been doing more manufacturing using cardboard for 3D point of sale, and the Kongsberg just eats it up" continued Dave. "When we were looking for a flatbed table we also considered all alternatives, but the deciding factor for us, was the build quality and superior software and software support we could get from ESKO and CWE Solutions.
"The Kongsberg XN24 makes many jobs such as short run manufacturing much more cost efficient. The Esko range of softwares, including preflight software which we're planning to invest in, also offers substantial workflow streamlining, plus we felt that considerations such as ease of operation and tool changeovers made the Kongsberg cutter by ESKO the best choice."
Colouration purchased the Kongsberg through CWE Solutions. Dave said: "Commercial Director Graham De Kock understood the needs of our company and what we wanted to achieve – and his knowledge and support set us on the right track. We can't always know everything, so it's great to have people like Graham around for advice. I've known him for the past four years and have always appreciated his generosity in sharing his insights and experience."
Dave said that the installation of the flatbed cutter went like a dream, despite it being sited on a mezzanine floor. "The support from ESKO and CWE Solutions has also been superb. Our studio manager is often in touch with them, getting great advice on how to get the best out of the cutter for different finished products.
"It has really helped us widen the range of what we can do – much of our extra work over the last seven months would have been a struggle without it."
The expansion in technology is being supported by extra sales team members, and new customers include end users, agencies and trade clients such as stage and set builders.
Colouration recently worked with a graphics company to produce three staging areas at FESPA, a job which included cutting, notching and shaping more than 300 boards. It was very well received and the company was proud of being involved in such a highly prestigious project.
"We're starting to see a feel good factor in the industry, in particular retail seems to be picking itself up," added Dave. "Our company has turned a nice little corner, seeing steady growth over the last six months, and we're cautiously optimistic for the future.
"We're always keeping an eye on where we think the work will be, and where the technology has been developed to deliver it," concluded Dave. "Soft fabric is a really interesting growth area, so we'll looking at that, as well as dye sublimation, and developing more continuous tone photographic capability. You always have to move with the industry."
For more information on the Kongsberg series call CWE Solutions on 0044 (0) 8444 829895.
For more information on Colouration, visit www.colouration.co.uk

Case study by Berni Raeside, BRPR, 0044 (0) 7970 509758
Follow us on Twitter - @DigiPrintNews
Like us on Facebook www.facebook.com/DPNLive - (click the 'LIKED' button/top of page as well)