Company teams up with acclaimed photographer to launch 'Carefully Curated' initiative.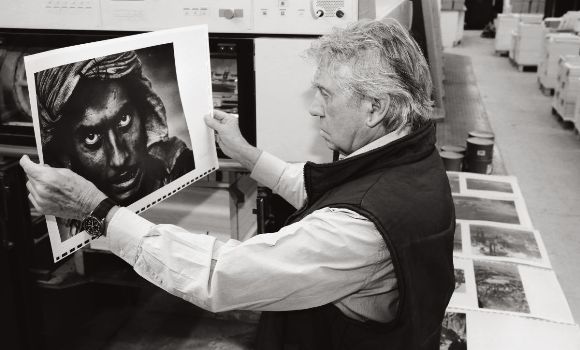 This showcases Don's photography in a larger format than ever previously published. This portrait of a steel worker in India is printed across a double page in volume 3, Landscapes, Travel & Still Lifes
As a result of being invited by one of the 20th Century's greatest British photographers, Don McCullin, to help him realise a three-volume Limited Edition retrospective of his life's work – Irreconcilable Truths, Antalis UK has launched 'Carefully Curated' as a result of this venture. The aim of the initiative is to highlight the importance of selecting the right paper to produce high-quality, high-profile printed output.
In collaboration with the acclaimed war and reportage photographer, the Antalis 'Carefully Curated' initiative combines the introduction of a broad range of some of its finest quality papers for litho and digital reproduction and the importance of selecting the right paper to create the best possible printed product. This was aptly demonstrated in the case of Don McCullin through his selection of Antalis's 'Cocoon Recycled' for the production of Irreconcilable Truths.
The Antalis campaign also includes the launch of a photographic-based competition entitled 'These Feet In Ancient Times'. It's open to anyone working in the design or print industries, and the competition, which will be judged with McCullin, encourages photographers and enthusiasts to submit their photographs via www.antaliscarefullycurated.com. Entrants will be in with a chance of receiving a printed portfolio of their work and also signed copies of Don McCullin's Irreconcilable Truths three-volume collection.
The first 'Carefully Curated' portfolio of selected papers from Antalis comprises a varied selection of papers for litho and digital printing including Cocoon, a full range of recycled papers offering both coated and uncoated options with an unusual level of high whiteness. Also included in the carefully selected portfolio is Mohawk superfine, marketed by Antalis as 'one of the finest printing papers delivering incredible quality, consistency and uniformity'.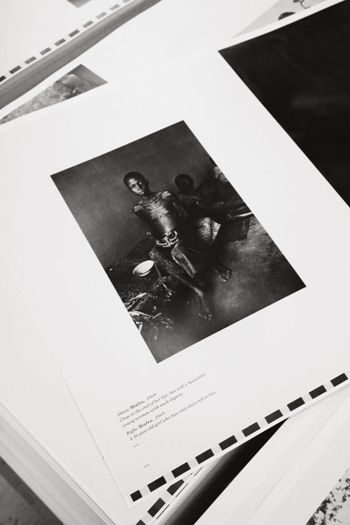 The three books comprise over 700 of Don's most iconic photographs as well as many previously unpublished images. This page showing a young girl starving in Biafra is taken from volume 1, War & Reportage Commenting on the production of his life's work, McCullin said,
"Preparing to realise Irreconcilable Truths has been a two-year process of reviewing the whole of my archive and curating almost 700 images that I consider to be the portfolio that defines the entirety of my career. Having published almost 30 books, this time I was dedicated to ensuring that what was possible with litho printing could match as closely as possible what I was achieving in my own darkroom."
Regarding paper selection, McCullin was clear that the qualities of the paper required would be a determining factor in the overall quality and presentation of his photography.
"One of the most satisfying parts of the whole project was the process of test printing a selection of my images using a mix of different litho and digital printing techniques and a carefully considered range of papers," he explained.
Antalis's Cocoon and Mohawk ranges proved their worth and were chosen as the best mix of papers for the project.
"The final decision was straightforward," continued McCullin. "I choose Antalis's Cocoon Recycled paper for the reproduction of images in Irreconcilable Truths, and its Mohawk Superfine stock for the digital reproduction of accompanying monographs – including the first ever printing of a selection of my colour photography."
Excellent production characteristics and premium environmental credentials were deemed to be of critical importance to the photographer, and a considerable amount of research and testing on press was required to ensure that the necessary levels of reproduction were achievable.
Commenting on their association with McCullin, Mike Bennett, Marketing Manager, Print, Sign & Display at Antalis said,
"We are extremely proud that our papers have been selected by Mr McCullin for such an important and personal production highlighting some of the most significant photographs of his life's work. It was this care and precision in his selection of materials and his meticulous attention to detail in the production of Irreconcilable Truths that was the inspiration behind the launch of our Carefully Curated initiative. We hope that this will inspire further creativity and care throughout the print and design communities when selecting substrates that truly enhance the overall production of a printed product."
For further information on the Carefully Curated initiative, visit www.antaliscarefullycurated.com 
You can Tweet, Like us on Facebook, Share, Google+, Pinit, print and email from the top of this article.
Copyright © 2016, DPNLIVE – All Rights Reserved.