International wall decoration specialist company

buys HP Latex 360 from City and West End Solutions.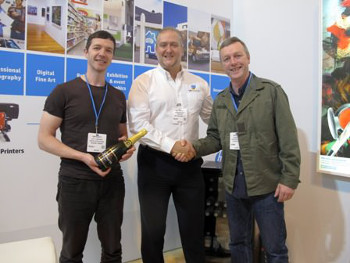 CWE director Darren Walker with Paul Tarnowski (left) and Julian Kellett (right) from the Digital Applications Department at Graham & Brown.UK headquartered, Graham & Brown, a company which operates internationally at the cutting edge of design and colour within the wall decoration market, has invested in a HP Latex 360 from City and West End Solutions (CWE). The investment was made to enhance the company's production flexibility and development processes.
---
Paul Tarnowski from the Digital Applications department at Graham & Brown said: "The improved ink technology in the HP Latex 360 gives us the ability to print colourways for products we're designing onto our own production substrate.
"We've not been able to do this in the past so we're hoping this new printer will become an important part of our development process."
CWE Director Darren Walker, who made the deal at Sign and Digital UK, added: "We're really excited about the range of opportunities these new HP Latex printers can offer."
"The new inks give outstanding durability with superior scratch resistance on vinyl and banner and enhanced quality and performance on a wider range of Medias. The high ink density options further extend the superior detail and vibrancy to backlit media and textiles."
For more information on the HP Latex 300 range call CWE Solutions on 0044 (0) 8444 829895
0044 (0) 8444 829895 or go to www.cwesolutions.co.uk/products-services/printers/hp-latex-300-series-printers/
For more information on Graham & Brown go to www.grahambrown.com
Follow us on Twitter - @DigiPrintNews
Like us on Facebook www.facebook.com/DPNLive - (click the 'LIKED' button/top of page as well)
Copyright © 2013, DPNLIVE – All Rights Reserved.