Company chooses the right substrate from

Antalis's Rives Tradition and Olin ranges.
---
VPC Vintage Card Combining vintage nostalgia with stylish, retro design is what has driven the success of creative and personalised gift company Vintage Playing Cards since it was established back in 2008. When the company wanted to expand its range into greeting cards and gift wrap, co-founders Allen Perkins and Tracy Kemp began their search for substrates that would match their ethos for producing unique and traditional gifts that would enthuse appeal to a bygone era. By discovering the Rives Tradition range of papers and Olin premium paper range, Vintage Playing Cards was able to achieve its objectives of combining traditional values with modern innovation.
---
The concept of the company was created when co-founder Allen Perkins found an old pack of art deco playing cards and saw the potential for up cycling the cards to produce uniquely framed cards and gifts. Today the company has expanded from a small cottage business to supplying renowned retailers such as Selfridges, Liberty, Fortnum & Mason and Not on The High Street.
Unaware of how exactly to translate their new product designs into reality, Allen turned to their printer, Flowprint of Maidenhead for advice. A longstanding customer of Antalis, the production team at Flowprint were quick to suggest two innovative substrates - Rives Tradition Natural White and Olin Regular Cream, that had the look, feel, colour and composition to produce the exact results Allen and Tracy were looking for.
"Recreating the vintage feel with a 'twist of modern' was central to our new range, and with cream and off-white shades being our signature, it was vital that we found a paper that would reflect these qualities", explains Allen. "The extensive selection of cream, white and off-white shades offered within the Rives Tradition and Olin ranges from Antalis were fantastic enabling us to achieve the exact look we wanted."
The Rives Tradition Natural White was selected in a 250gsm weight for the greetings cards giving them a modern, refined subtle felt finish, which were printed digitally on a Konica Minolta Bizhub Press C8000, while a 100gsm Olin Regular Cream was chosen for the 18,000 sheets of gift wrapping, which is printed on an offset press.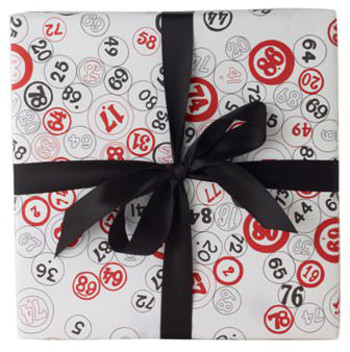 "There were a few design and print challenges to overcome," continues Allen. "One of them was to produce a high density black, which we were unable to achieve through lithographic printing. However, by transferring to a digital press, this gave us outstanding results and the very intense black print we were looking for."
The flexibility of the digital print technology has also enabled the company to produce shorter print runs and personalised products, adding to the success of this new range and enabling them to respond quickly to increasing demand - to date over 30,000 cards have been printed and thanks to the popularity of their new range, Vintage Playing Cards now require a monthly print run.
"The success of the project has been amazing," enthuses Allen, who notes the choice of substrate and the introduction of digital technology as a key contributor to its success. "The paper gave us a very matt and textured finish and with the combination of embossing and de-bossing to give additional depth, the paper perfectly resembled the bark and wood finish of our framed products. This contrasted beautifully with the partially glossy print."
Reaction to their new product range which maintains a vintage and exclusive quality has been overwhelming, enabling the company to attract new stockists at some of the most sought-after retail outlets.
"Having been introduced to the Antalis team through our print partner, we've received brilliant ongoing support from them in terms of their knowledge and expertise in this sector as well as keeping us up to speed with the latest products, and I'm now consulting with them on a number of new projects for the future," concludes Allen.
Jim Whittington, Digital Business Partner at Antalis adds, "Helping companies expand and develop their business is always an exciting and rewarding part of our role. In this case, our close relationship with Flowprint has enabled us to help identify a robust substrate with a textured, intriguing finish for their customer, Vintage Playing Cards that produced excellent results through a dry toner digital press."
Issued on behalf of Antalis UK by AD Communications.
Follow us on Twitter - @DigiPrintNews
Like us on Facebook www.facebook.com/DPNLive - (click the 'LIKED' button/top of page as well)