Loyal Roland DG customer, 'BIG PETE' Colman of Classic Print, celebrates 30 years.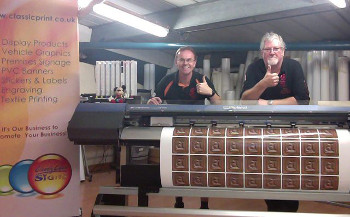 R-L Big Pete and his wing man MickThis month, Mansfield-based 'Big Pete' Colman is celebrating 30 successful years in the sign and graphics industry.
The founder and managing director of Classic Lines Plus Signs which recently rebranded to Classic Print, has been a loyal Roland DG customer for over 24 years. He says: "It's been a great 30 years and we've really enjoyed working with all our customers over this time, playing our small part in helping them grow their businesses by providing them with great products and a first class service. This industry has changed so dramatically over the last three decades, in particular the last 24 years since we purchased our first Roland Plotter in the early 90's. And, in many ways, Roland DG and Classic Print have shared a history of evolution and growth, both fuelled by a dynamic wide format technology that continues to be innovative and offer new applications and products."
"Over the years, we've invested in 16 Roland machines, always keeping pace with the latest offering. Our current portfolio includes a VersaCAMM VS-640 wide format printer, a GX-300 cutter, an EGX-350 desktop engraver and a Metaza MPX-90 Impact Engraver. We have always believed in the performance and reliability of Roland products and the company consistently confirms our faith in it by continuing to deliver outstanding technology, backed by great service and support."
"We must have done just about every possible job over the course of the last 30 years, from the weird to the wonderful, sublime to the ridiculous. However, I still believe the most interesting job you can do is the one that comes next. That is what keeps you going and striving to achieve.  Over three decades, we've printed everything from wrapping matchbox-sized transit vans to match their full-scale models for a 'buy one get one free' campaign to wrapping beer pumps and everything in between!"
Pete says that perhaps the hardest thing today is the time management aspect of the business, stating that a lot of time can be consumed waiting for artwork or client approval as clients don't always understand the time it takes to produce and finish a job. However, he says it is technology like that offered by Roland which has gone a long way to addressing these and other blocks in the production process.
"After 30 years, I still get huge satisfaction seeing products I have created again, sometimes many months after completing them. It's a great feeling. With the help of Roland, we are still extending the range of printable products and services we can offer customers, by integrating technologies like variable data with print and cut for example. If there are any pearls of wisdom I could impart to those just starting out in this business, it is to stick to your plan and have the courage of your convictions. I've always driven the business forward with this old proverb in mind: 'The man who says it cannot be done must not get in the way of the man who is doing it'. It's served me well for the last 30 years, and I hope it will for 30 more."
Today, Classic Print offers a full range of printing services to its customers – from outdoor and indoor banners, flags and POS graphics to car wraps, garment personalisation, soft signage, personalised furniture and décor, 3D engraving and promotional products - all of which showcase the incredibly diverse collection of products and applications possible on Roland machines.  Continues Pete: "Roland's wide format machines are very versatile and over time have transformed the way we do business and the type of customers we can attract.  Many customers simply can't believe what can now be printed on a wide format machine, so we have recently opened a showroom to demonstrate our full range of applications and services to customers."
Visitors to the Roland stand at this year's Sign & Digital UK will have had the opportunity to meet with Big Pete and learn a little more first-hand about how Roland's robust, reliable technology has helped Classic Print to grow and succeed.
"The trade service we offer has grown rapidly over the last few years with many of our new customers being people we have met at Sign & Digital, who perhaps do not have the range of kit that we do. So we can help them on the way to investing in Roland kit for themselves. Further details of the service can be found at www.classicprint.co.uk."
Says Jerry Davies, Managing Director, Roland DG: "On behalf of the whole Roland DG team, I would like to congratulate Big Pete and his team on 30 great years in the industry. It's an outstanding achievement and the company keeps going from strength to strength.  Classic Print is the epitome of a Roland customer – an entrepreneur that has worked hard and always invested in great technology to ensure they can keep ahead of the competition and constantly offer customers new and exciting applications."
For further information on Roland DG visit www.rolanddg.co.uk
Case study on behalf of Roland DG
You can Tweet, Like us on Facebook, Share, Google+, print and email from the top of this article