Installation of press dramatically increases sales in 18 months at Reel Appeal.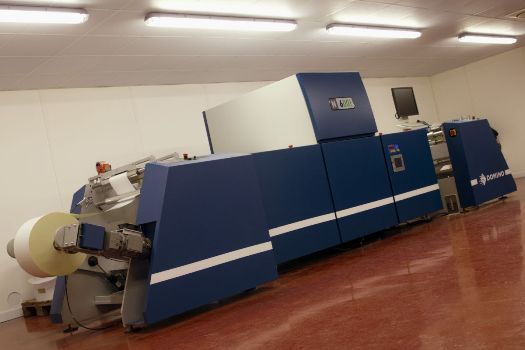 Domino N600iReel Appeal, a UK based business, located in Lancashire, which specialises in the printing of self-adhesive labels and the manufacture of leaflet and booklet labels, has confirmed it has successfully increased its sales thanks to the installation of Domino's N600i digital colour label press. The company said that over an 18 month period, the N600i has opened up new business opportunities for Reel Appeal in a variety of sectors, including industrial, food & beverage and cosmetics.
Reel Appeal initially purchased the N600i to fulfil its oil, chemical and agrochemical label orders. It boasts extremely robust and colourfast UV inks used in the Domino press which are ideal for these types of applications. After experiencing the machine's high productivity and high quality results, the company soon began moving most of its print jobs from its UV letter press and flexo press over to the newly-acquired N600i.
Barry Lewis, MD at Reel Appeal, commented on the considerable growth in sales activity since the installation:
"It has transformed our business. We originally envisaged running the N600i only for specific jobs, for 2-3 days a week, but the rapid influx of orders we received saw us increase the usage of the technology to 5 days a week. In the first 6 months, our revenue increased 33 per cent. By the end of the next financial year, we achieved a further increase in sales of 50 per cent, which means that, over the course of 18 months, our sales have increased exponentially. The Domino press has been one of the key drivers in that growth."
He continued: "Correspondingly, our business mix has also changed. Before our investment in the Domino press, digital print used to account for just two – three per cent of our business. It now stands at 98 per cent."
Operating at speeds of 50-75 metres (164-246ft) per minute with a 600dpi native resolution, the N600i is billed as offering double the print speed of most high resolution digital systems. This capability expands the range and viability of high volume production work that a digital solution can handle. A wide range of industry standard substrates can be printed onto without the need to pre-coat and utilising durable UV curable inks, vibrant high impact colour images are achieved, similar to the finish provided by flexo or offset.
Barry Lewis (Managing Director, Reel Appeal) and Martin Lewis (Digital Operations Manager, Reel Appeal) with the Domino N600i"As a business, we recognise that the role of product labelling is to be the 'ultimate point of sales' tool," explained Barry. "With that in mind, there are three key factors that our customers require from us: print quality and consistency, vibrant colours and, most importantly, a fast turnaround. The N600i delivers on all of these fronts. Plus, it is very easy to run and maintain, which significantly reduces the need for operator intervention."
Barry went on to elaborate on how the system's features and benefits have won over Reel Appeal customers and converted them from flexo to digital print. "One of our customers, Rock Oil, works with a wide range of oils in varying grades and viscosities, which requires different variants of the label printing. Using a flexo press meant creating separate sets of plates for each variant, which is both costly and time consuming. Using the digital option instead, there is very little setup time, a fast changeover from one variant to the next and no plate costs."
He concluded: "Communicating innovation and flexibility with our self-adhesive products is at the forefront of Reel Appeal's aims, as is the ability to make a real difference to our customers' sales. Thanks to the N600i, not only are we able to deliver a fast turnaround of competitively priced, high quality labels with the option of offering more variants to our customers, but we're also exploring and acquiring new business opportunities. We are more than happy with the press itself, not to mention the service and support provided by the Domino team and look forward to a long and prosperous partnership with them."
For further information on Domino, please visit www.domino-printing.com
You can Tweet, Like us on Facebook, Share, Google+, Pinit, print and email from the top of this article.