Charities benefit from free banners

produced on Roland DG stand.
---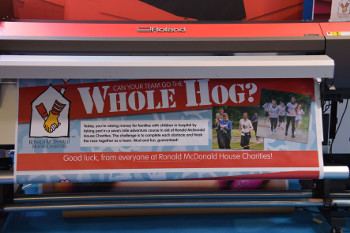 Ronald McDonald House Charities banner. Click the graphic to enlarge it.Roland DG (UK) used Sign & Digital UK this year by committing a number of its machines on the stand to producing banners for two UK charities: Ronald McDonald House Charities and Children's Hospice South West throughout the three days of the show.
---
"Charities use banners to help raise awareness of what they do when they attend events and run open days," says Mark Elvidge, Print Product manager at Roland DG. "As such, we were delighted to be able help these two charities raise their profile by using our machines at the show to output a range of stunning, high quality, marketing collateral for these two wonderful charities."
Mark and the Roland DG team chose to support Ronald McDonald House Charities following his own positive experience at the Ronald McDonald House Charities' house in Manchester, when his daughter, Grace, was battling Leukaemia.
Lauren Gotlieb, Marketing and Communications Manager for Ronald McDonald House Charities said: "Support can come in many forms and this generous donation of banners from Roland DG will help us raise awareness of the Charity, a key priority for us this year. In order to provide free 'home away from home' accommodation for families with children in hospital, we rely on fundraisers, donors and volunteers to keep our 14 Ronald McDonald Houses open. We need more people to know about us, so that they might choose to support us in the future. We'd like to thank Mark and everyone at Roland DG for all their support."
Children's Hospice South West is a charity that has been supported by Roland DG (UK) employees at their offices for a number of years. Proceeds from the company's employee tuck shop are donated to the charity each year, with the employee donation doubled by the company each time.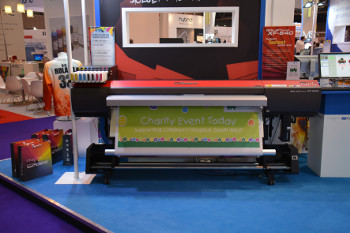 Children's Hospice South West banner. Click the graphic to enlarge it.Said Bryony McDonald, Marketing and Communications Officer at Children's Hospice South West: "Children's Hospice South West was delighted to be offered free banner printing courtesy of Roland DG. The banners provided will help our brand awareness at our events throughout the year, events which are vital to our fundraising needs. We run three children's hospices throughout the South West and rely on voluntary contributions to ensure our service provision into the future."
Concluded Jerry Davies, Managing Director, Roland DG UK: "Both of these charities work exceptionally hard to give children and their families the best support they can through very difficult times and we're very pleased to be able to make a small contribution to helping them both raise their profile further. So much print is disposed of at the end of an exhibition so it's great to know that what we produced on the stand will be making a genuine and positive contribution to these charities in the months to come."
Courtesy of Roland DG UK
Follow us on Twitter - @DigiPrintNews
Like us on Facebook www.facebook.com/DPNLive - (click the 'LIKED' button/top of page as well)