Great offers still available for printers to buy from

Mimaki authorised resellers in the UK & Ireland.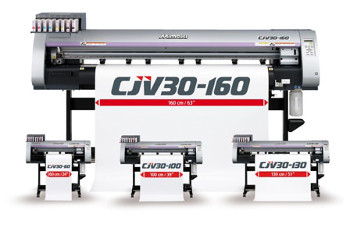 A Mimaki CJV30 starts at just £5,995Mimaki's JV33 printers and CJV30 printer/cutters form the mainstay of the company's printer portfolio and attractive pricing from authorised Mimaki resellers in the UK and Ireland mean there's never been a better time to invest in one of these award winning solutions.
Both machines sport latest generation print heads, an industry leading print quality and multiple choices when it comes to inks (which include eco solvent, low odour outdoor durable solvent as well as dye sublimation for transfer printing) and even white and metallic options. With a strong heritage in the sign industry and a reputation for delivering production quality solutions, Mimaki has become the de facto choice for a considerable corner of the market.
The complete Mimaki product range is distributed in the UK & Ireland by Hybrid Services Ltd and speaking with the company's national sales manager, John de la Roche, it is clear that its resellers have some very attractive options for customers to invest in these core products.
"The Mimaki JV33 has a justified reputation for delivering high quality prints onto a very broad range of materials at speeds that allow most print companies to deliver high volumes of work each and every day," says de la Roche. "If you've not already added a Mimaki to your print arsenal, there's never been a better time to invest as our resellers have some unbelievable offers at present."
The CJV30 utilises the same high quality print engine as the JV33 and adds the cutting functionality found on Mimaki's CG-FXII range of plotters. De la Roche explains the draw of the integrated printer / cutter to sign makers, "The CJV30 comes in four sizes, starts at just £5,995 and is unrivalled in its ease of use and feature set. Printing, cutting and even die cutting from the one unit means a small footprint and true unattended operation leaves sign makers to get on with other jobs whilst their Mimaki is printing away and making them money," he continues. "Following the success of this summer's promotion on the 60cm CJV30-60 we've created a permanent RRP of just £5,995. That includes RIP and cutting software, take up unit and a stand - just add some ink and you're away."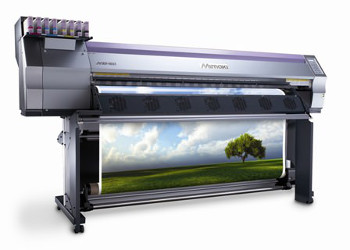 The Mimaki JV33 offers great value and performance in a proven packageThe Mimaki CJV30-100 also benefits from a new RRP of just £7,995 and with offers available on the 1.3m and 1.6m options, de la Roche is keen to ensure customers benefit. "I'd urge printers to discuss pricing with their Mimaki reseller soon as some of these offers are for a limited period only – we don't want companies to miss out!"
Full details on the CJV30 and JV33 models as well as the complete range of Mimaki products can be found at www.hybridservices.co.uk or by calling Hybrid on 0044 (0) 1270 501900.
Feature on behalf of Hybrid Services Ltd