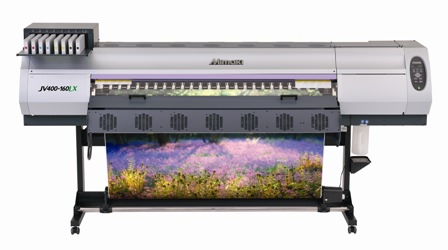 Reprocentre to market new Mimaki JV400-160LXThat's the message Reprocentre, one of Irelands leading supplier of consumables, equipment and services to the large format sign and display sector is sending to the market here. The company which is based in the Nangor Road Business Park, Dublin 12 will be on hand at Mimaki's exclusive UK and Irish distributors stand, Hybrid Services (stand D10, right at the entrance to Hall 3) at Sign+Digital UK - 27-29th March 2012 to explain the key selling points of the new Mimaki JV400 Latex printer to Irish visitors.
Sales director at Reprocentre, Eoin Honan said:
"We are exited about the launch of the Mimaki JV400 Latex printer. Up to now the company has always concentrated on marketing the HP Scitex LX range of Latex printers, and these are aimed at the high volume production end of the market. We have never sold entry level Latex machines so the new JV400 fits into our assortment very nicely indeed, as more and more customers are now looking at Latex for a lot of reasons such as the environment, wider range of substrates, no gassing off, just to name a few!
Honan highlighted some key points about the new Mimaki JV400 latex inkjet printers.
Faster: Nearly twice as fast in production quality mode at 900 x 900dpi.
Cooler: Cures at nearly half the temperature 60 degrees or less.
Lower: Lower running costs, due to the reduced power consumption and non consumable print heads.
Higher: Higher quality due to a 4 picolitre variable drop size...ensures smooth gradation without grainy appearance.
He went on to say:
"Oh, and it has white ink too as standard, which by the way is a worlds first for Latex printing.What we have in the JV400 is a new approach to Latex. We have white ink, we have cooler curing temperatures, meaning lower running costs, but also it allows the user to print on media that is heat sensitive as it cures at 60 degrees. Add in higher print speeds, and again this gives our customers better production at similar resolutions to our competitors, plus you can print at higher quality with smoother gradations due to the use of a 4 picolitre variable drop size."
The printers are available in 1.3 metre and 1.6 metre wide and both will be on display at Sign & Digital UK.
Honan added:" We are waiting for our showroom machine to come available shortly, where we hope to run some open days during April."
For further Information please contact:
Tom McIntyre – 086 8229835 – This email address is being protected from spambots. You need JavaScript enabled to view it.
Bernard Hoey – 087 4118123 – This email address is being protected from spambots. You need JavaScript enabled to view it.
Bill Forde - 0044 7710 126935 (N.I.) – This email address is being protected from spambots. You need JavaScript enabled to view it.
Eoin Honan – 087 2505765 – This email address is being protected from spambots. You need JavaScript enabled to view it.
Copyright © 2012, DPNLIVE – All Rights Reserved