Printed textile design graduates of the future
---
It was show time again as the 2012 NCAD (National College of Art & Design) Graduate & postgraduate Exhibitions took place at the college's campus on Cork Street, Dublin 8 (June 9 - 17).
---
Gerard-Gunning--Digital-Bonded-Coat,-Oversized-ZipOne of the highlights this year was the presentation from the printed textile design graduates who exhibited vision and creativity with a slick final year design show which was part of the NCAD exhibition.
Samantha Corcoran, Lecturer in Printed Textile Design (BA, ANCAD, and MFA NCAD) commented:
"These are the designers of the future and their work spans a range of contemporary print applications within womenswear, menswear and interiors," said Corcoran.
Innovative print exploration and experimentation was evident from the students including multiprocessing techniques such as devore, digital, cross-dyeing and hand-painting, illumination, flock and foil.
Erin-McClure--Digital-Devore-top-Handpainted-Screen-Orchid-skirt"This year we've developed our Mimaki TX2 printer use to run both reactive and sublimatic inks," continued Corcoran. "This transformation enables exciting digital exploration and prototyping across a broader range of contemporary substrates - natural and synthetics, enabling the students to be more creative and more experimental than ever before."
Corcoran highlighted a number of graduates' work, in particular Gerard Gunning, who she described as a 'brave and innovative designer' who has already secured an internship with Paul Smith in the UK.
Gunning's final year work, a menswear collection, explores life, anonymity and censorship creating an edgy, contemporary look, fusing sports and casual wear. Innovative fabric manipulation, bonding, illumination, devore, cross dye and exploration across materials without boundaries was evident in his pieces with a mi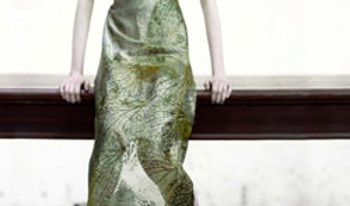 Clodagh-Carroll-DevoreCross-Dye-Silk-Viscose-Satin-Dressnimal, graphic feel to the final work.
Niamh Burgess explored a cool and contemporary underwater concept within her womenswear collection. Hits of neon's and brights fuse and mingle with metallic bubbles, pearl and aqua shades. Intricate, technological sea creatures emerge from a coral underworld. Burgess pushed her concept further with the use of specialised pearlised glitters, foils, and fluorescent and neon pigments. Corcoran said it was 'a beautiful, original collection with on-trend colour approaches'.
Niamh-Burgess-Split-screen-fluorescent-coral-print-under-uv-light-dressAnother graduate, Clodagh Carroll, created a striking contemporary womenswear collection of hand-painted florals drifting across devore silhouettes. Corcoran added: "Painterly digital silks' mingling with ghostly transparent sublimatic scarves was how I would describe this work."
Erin McLure's womenswear collection oozed sophistication and style. Using the limestone landscape and flora of the burren as inspiration, hand-drawn and hand-printed craftsmanship was evident across this work. The traditional screen print process is intermixed with a more technological digital exploration. A contemporary reinterpretation of the 'Made in Ireland' concept!
Corcoran concluded:
"If these designers are the future, the future is certainly bright".
E-mail contact details:
This email address is being protected from spambots. You need JavaScript enabled to view it." mce_' + path + '\'' + prefix + ':' + addy57937 + '\'>'+addy_text57937+'<\/a>'; //-->

This email address is being protected from spambots. You need JavaScript enabled to view it." mce_' + path + '\'' + prefix + ':' + addy97380 + '\'>'+addy_text97380+'<\/a>'; //-->

This email address is being protected from spambots. You need JavaScript enabled to view it." mce_' + path + '\'' + prefix + ':' + addy30305 + '\'>'+addy_text30305+'<\/a>'; //-->

This email address is being protected from spambots. You need JavaScript enabled to view it." mce_' + path + '\'' + prefix + ':' + addy63872 + '\'>'+addy_text63872+'<\/a>'; //-->

Copyright © 2012, DPNLIVE – All Rights Reserved