McGowans Print's latest digital press, the Scodix1200™, can take any print job to the next level – literally.
The Scodix1200™ is a digital enhancement press to make print stand out and offer clients effective brand differentiation using spot UV and embossed finishes. It does this by registering clear polymer to images in variable thicknesses and textures from 20 to 70 microns.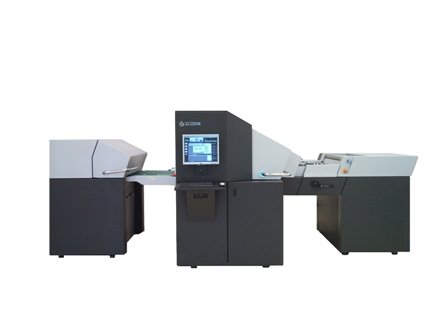 Scodix pressMcGowans, a leading solutions provider for exhibition, general print, outdoor, retail, digital enhancement and vehicle graphics with production facilities in Dublin and Belfast, has recently opened in London.
The company's managing director, Tony Roe, said: "The Scodix has been a huge hit for our creative clients from day one. Up to now spot UV and embossed finishes were considered a costly and time-consuming luxury. However with the arrival of the Scodix 1200 McGowans is now in the incredible position of being able to offer both finishes in the one pass. If you also compare the cost of traditional spot UV or embossing, the Scodix is a fraction of that cost and there is an obvious time-saving element also."
Roe stressed that in line with the firm's eco policies the Scodix 1200 is a clean, green process with no VOC emissions and uses the smallest amount of clear polymer while still producing fantastic effects.
"We have a special offer on the Home page of our new website," he added. "It's for a set of digitally enhanced business cards, free of charge, to get people used to setting files up and also to see the uplift in their print.
"Our London office is up and running and is being staffed by two sales agents, both with experience in this location," said Roe. "The office is primarily functioning out of necessity as our more frequent dealings with UK-based multi-store retailers who are having issues with logistics when shipping to their Irish stores require us to have a presence there. With the success of the Northern Ireland office, we see no reason that it won't be a similar success, with the introduction of some production facilities, as and when it is required."
McGowans Print
Republic of Ireland: 3 Poppintree Industrial Estate, Dublin 11.
Tel: 00353 (0) 1 410 6700
Northern Ireland: 22 Edgar Road, Belfast BT8 8AN.
Tel: 028 90 812108
London: The Media Village, 131-151 Great Titchfield Street, London, W1W 5BB
Tel: 0044 791 2288211
Copyright © 2012, DPNLIVE – All Rights Reserved