Palette arch POP for Coca Cola Ireland showed high quality design, print and construction.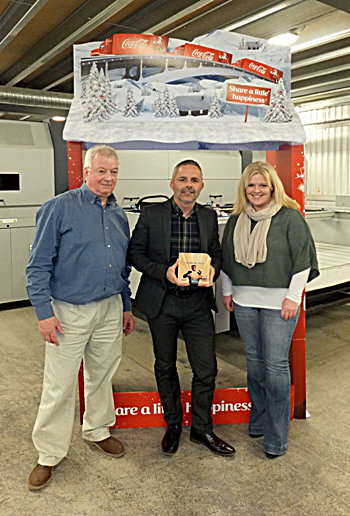 L to R: Chris O'Brien - Structural Engineer, Tony Roe – Managing Director (with FESPA award in hand), Gillian Barry – Senior Graphic Designer and Durst 1030 in backgroundDublin based McGowans Print has received a prestigious Gold Award at FESPA 2016 where it triumphed in the digital print category of Point of Purchase Products – Paper & Board.
FESPA is a federation of trade associations which also hosts exhibitions and conferences for the screen and digital printing industry. Each year they hold an annual exhibition, which includes a gala awards ceremony to showcase and recognize the best printers in the world.
This year, the awards were presented in Beurs van Berlage, Amsterdam in the Netherlands on Wednesday 9 March 2016.
McGowans entry was a palette arch produced for Coca Cola Ireland specifically for the Christmas market. Designed to draw attention to Coca Cola products in stores around Ireland, the arch proved so successful it even went viral for Coke on its social media platforms.
It was designed by Gillian Barry, senior designer at McGowans using Adobe's creative cloud suite of products, predominantly Adobe Illustrator. The structural side of the project was produced by Chris O'Brien of McGowans, using Artios CAD, who brought all of his 30 years of experience to bear in creating the arch.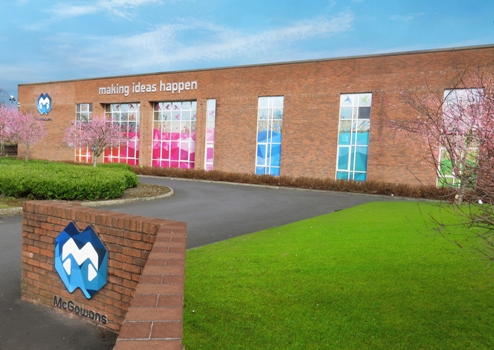 McGowans huge and highly impressive facility in North DublinMcGowans winning entry was printed on a Durst 1030, a large format inkjet flatbed printer that is capable of producing unrivalled quality in the digital print industry and cut on a Konsberg XP digital cutting table. Since 40 per cent of the points awarded were based on print quality and colour appearance, McGowans believe that Durst can also take some of the credit for this Gold Award.
The company has been in business for more than a quarter of century and has grown from a small city centre shop in Dublin to an industry leading giant employing over 100 people between its two locations in Belfast and its huge and highly impressive facility in North Dublin. Boasting cutting edge equipment capable of printing everything from business cards to banners, it had a turnover of over €12 million last year. With a keen eye always on the potential of new print technology, continued reinvestment will see McGowans continue to remain as Ireland's leading digital printer for many years to come.
http://www.mcgowansprint.com/
You can Tweet, Like us on Facebook, Share, Google+, Pinit, print and email from the top of this article.