Continued Mimaki investment gives McMordie Bros creative edge.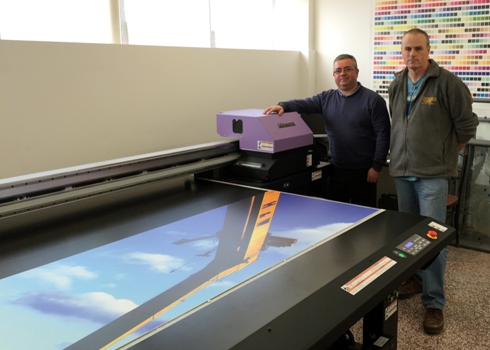 McMordie Bros owner Andrew Fleming with Frank Wilson of Mimaki reseller, Dennis D EvansMcMordie Bros of Belfast has recently invested in the first Mimaki JFX200-2513 in Ireland through long-standing Mimaki reseller, Dennis D Evans. The investment was made to allow the company to expand upon its trade service offering to include direct to board printing and further confirm its standing as rigid substrate experts in the industry.
McMordie Bros began operating over 60 years ago and has become a successful independent plastics supplier, providing the industry with rigid substrates including Perspex, foamboard and corriboard. As a natural extension to its core business, McMordies has developed a printing and engraving arm to the company which it believes has taken a significant creative step forward with the installation of its Mimaki JFX200-2513 grand-format LED UV flatbed printer to add direct printing to rigid substrates to its portfolio.
The company's owner, Andrew Fleming highlights the importance of the purchase to the company's popular trade service provision, "The JFX200-2513 was the obvious choice of flatbed for us, not only because of its affordability, but its 8' x 4' bed size is perfect for the easy printing of standard sized boards which makes up a large part of our trade service business. The print quality we are seeing from the JFX200 is impressive and our customers are requesting some really creative work, such as printing designs onto glass. Our portfolio is expanding rapidly!"
The Mimaki JFX200-2513 is the fourth piece of Mimaki hardware the company has purchased through Belfast-based Mimaki reseller, Dennis D Evans. "McMordie Bros is a longstanding and valued customer of ours," explains Dennis D Evans sales manager, Frank Wilson. "They have always been a forward thinking company; being the first in Ireland to install a Mimaki CJV30 integrated printer-cutter back in 2008 and more recently they lead the way with the first Mimaki SUV printer here too, so they know how to drive their business forward."
The Mimaki JFX200-2513 utilises LED UV technology, which ensures low running costs and great eco credentials. The easy-to-use flatbed with its compact footprint comes with a choice of inksets, including white and clear, making it suitable for printing a vast array of applications and substrates, as Hybrid's General Manager for Ireland, Dave Rainsford explains; "Since its release in 2014, the uptake of the Mimaki JFX200-2513 across the UK has been phenomenal and, having installed the first one here in Ireland, McMordie Bros is already reaping the benefits of this super-fast and highly-versatile flatbed. The JFX200 has set a benchmark for LED UV flatbeds, with superior technological benefits at a price that is affordable for investors."
For further information about McMordie Bros telephone0044 (0) 28 9045 8956 or visit the website www.mcmordiebros.co.uk. To contact Dennis D Evans please telephone 0044 (0) 28 9065 2220 or visit www.devans.co.uk. For all of Mimaki's latest products and consumables visit Irish and UK distributor, Hybrid Services Ltd's website www.hybridservices.co.uk or telephone 0044 (0) 1270 501900.
You can Tweet, Like us on Facebook, Share, Google+, Pinit, print and email from the top of this article.