Company is experiencing significant growth in wide format print media, signage and display.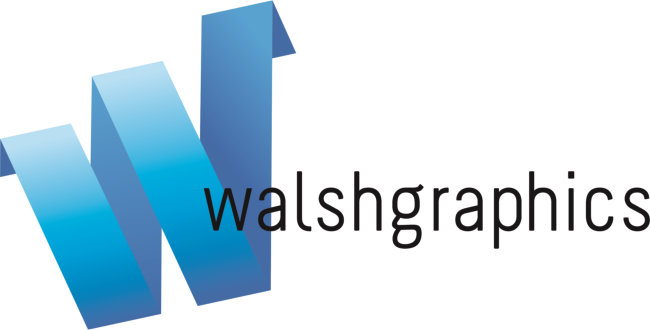 Walsh Graphics Logo
Cork based Walsh Graphics has just announced that it is launching its biggest catalogue yet for 15/16 on Monday 14 September.
Established for over 20 years with its core business being the supply of consumables to the Litho printing industry, Walsh Graphics stepped into the Wide Format Print Media, Signage and Display market over five years ago, and has been growing year on year. Today it is recognised as one of the key consumable suppliers in the trade.
The new catalogue features a product range from some of the best manufactures in the industry like Arlon, Ritrama, Hexis and DGCal for print media.
The company has a new partnership with Ultima Displays, who are leaders in high-end display solutions which Walsh Graphics maintain will give customers access to a huge range of display products with a 24 hour delivery service.
Its 10,000 sq/ft warehouse facility carries a huge range of print media, display products, tools, wide-format inks and sheet material.
Walsh Graphics Catalogue Marketing manager Dave Lyons said, "Our aim is to be the most reliable and comprehensive 'one-stop shop' for all sign makers and printers requirements.
Our 2016 goal is to reach out into the UK market by developing our e-commerce platform and expanding our sales team."
Rapid growth of the business in the past eighteen months has seen an increase in staff.
Three new additions to the outside sales team; Eammon Byrne in the Dublin area, John Davey in Northern Ireland and John McCarthy in the Munster region
Mark Anthony the new Warehouse Manager has been brought in to ensure Walsh Graphics reputable excellent service of next day delivery continues as the company grows and the volume of orders being shipped around the country everyday increases.
Dave Lyons, Marketing Manager looks after updating the ever-growing ecommerce website www.walshgraphics.ie along with Mailshots, Social Media and all things relating to raising brand awareness for the company, including his huge input into putting together this new 15/16 Walsh Graphics catalogue
Michael Walsh, Managing Director told us,
"Regular product training by our key suppliers, including Arlon, Ritrama and Ultima Displays, arms the sales team with vital product and application information to share with our customers; this along with quality products, competitive pricing and excellent customer support and service have brought Walsh Graphics to where we are today. Really it is our team of enthusiastic, dedicated staff and our ability to think outside the box which will guarantee our growth and continued support to our customers."
For further information please go to http://www.walshgraphics.ie/
You can Tweet, Like us on Facebook, Share, Google+, Pinit, print and email from the top of this article.
Copyright © 2015, DPNLIVE – All Rights Reserved.