Mimaki JV33-160 to assist the company's

growth naturally and help sustain it into 2014.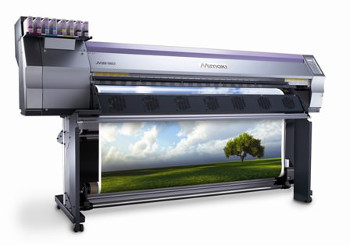 Mimaki JV33-160Dublin based Select Digital Print Group has announced that it will install a Mimaki JV33-160 before the end of October. This is the third investment in a Mimaki large format printer by this multi-award winning print house and will be used to improve productivity and shorten lead times. In tandem with this, the company has also installed a Canon iPF8300 specifically for pop-up display units, pull-ups, posters and backlit, Duratran film.
Established in 2003, Select Digital specialises in the design and printing of large and small format media for indoor and outdoor use from posters to full point of sale. The new JV33-160, which was purchased through Hybrid's authorised reseller Reprocentre, will now join a stable of Mimaki's at Select Digital which comprise of a Mimaki JV3-160s, a Mimaki JV33-160 and a Mimaki CG-FX 160 plotter.
Tara Wilson-Black, director, Select Digital Print Group commented on the new investment.
"This month Select Digital installs its third Mimaki in the JV33 series, "she said. "We firmly believe in re-investing profits back into the business because it makes our job a lot easier on a daily basis, its tax efficient and adding another Mimaki JV33 160 will also help with our expanding customer base. At the moment, we simply cannot get the graphics out the door quick enough and the additional machine will help shorten our production schedule and help relieve stress within the production team"
Recently Select Digital finished a new project -"Vinyl Floor Graphics"- which it produced for a huge $33million US film production starring Timothy Dalton, Josh Hartnett and Eva Green.
"This has opened up a whole new market and opportunities for the company," continued Tara. "We hope to explore this new market with the installation of the additional JV33- 160 as well as servicing our expanding customer base. Floor Graphics are becoming a popular way of advertising by using valuable floor space in retail, nightclubs, sports events, schools etc, but also a way of converting a space for a film set. Add in stickers, decals, window graphics, exhibition graphics, wall coverings, signage, banners, we now have a new versatile machine that offers exceptional quality at an affordable cost whatever the project. The only limitation is your imagination."
Floor Graphic Select Digital have a full range of in house small & large format finishing equipment covering four different lamination stages, as well as creasing, folding, booklet making, die cutting, welding, and heat press facilities.
"Having a third Mimaki printer will assist the company's growth naturally and help sustain it into 2014," concluded Tara. "We are always looking at new ways to expand and grow, however we are mindful to grow the business organically."
Hybrid Services Ltd's Dave Rainsford – General Manager, Ireland added his comments; "We're delighted to see the long standing relationship between a multi award winning company like Select Digital and Hybrid Services continue with their investment in a further Mimaki JV33 printer. Our relationship dates back to the very first Mimaki JV3 installed in Ireland and continues as strong as ever to this day. We're very proud to be working with Phillip and Tara and wish them continued growth and success into the future."
Select Digital Print has 6 Irish Print Awards and continues to be one of Ireland's leading large format Digital Print Houses.
Follow us on Twitter - @DigiPrintNews
Like us on Facebook www.facebook.com/DPNLive - (click the 'LIKED' button/top of page as well)
Copyright © 2013, DPNLIVE – All Rights Reserved.
SELECT DIGITAL PRINT GROUP Logo