MTEX direct-to-textile print investment

turns Cover Up into 'exhibitionists'.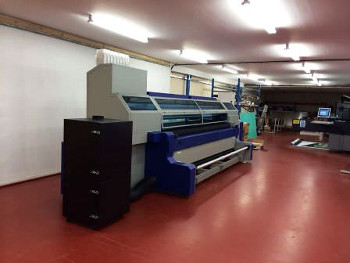 The MTEX 5032 textile printer at Cover UpCover Up, one of Ireland's largest print houses, which specialises in large format digital printing, has installed a new MTEX 5032 direct-to-textile printer. The investment was made in order to expand its offering for exhibition and display companies.
The company was established in 1970 as a cover manufacturer and has two units based in Clondalkin and Sandyford, Dublin. It has since grown to become a leading producer of printed textiles including flags, banners, awnings and bunting, signage and lightboxes, vehicle covers, canvas backdrops, POP, displays, exhibition panels, stage graphics and more.
Cover Up however was aware that its growth in the exhibition market was being held back by the fact it could only produce applications such as lightboxes up to 1.8m wide and only on matt polyester.
After reviewing the market, it decided to purchase an MTEX 5032 which allows it to now print as wide as 3.2m and work with the newer and bigger display units that are available today.
From an initial purchase of a 3.2 metre PVC printer, it now has a considerable production capability which includes a 5m HP UV 5100, a flatbed HP 6200, a 3.2m solvent, two DGen dye-sub 1.8m flag machines, an FB700 flatbed and a 54" Mimaki.
Additionally, Cover Up has the ability to carry out all its own finishing with three high frequency welders for finishing PVC and mesh, and machinists for stitching.
"When we decided to go with the MTEX, the difference that put it above other units was the quality of print and the punchy colours," explained Anthony Byrne, Manager at Cover Up.
The new MTEX 5032 was installed in mid-March, after the company had moved into new premises last December where it had space earmarked on the ground floor for this latest machine.
The best-selling MTEX 5032 3.2m wide textile printer with in-built fixation"The installation and training was great," added Byrne. "It took a day, then we had the training from the MTEX team and the printer was up and running jobs within around three days."
The new generation MTEX printer is billed as offering an all in one direct-to-textile solution, printing up to 1440dpi and speeds up to 62m2/h using a water based inkset that delivers vibrant consistent colours. The textile is then advanced to the in-line fixation unit where it sublimates into the fabric.
Stewart Bell, MD of MTEX Technologies Ltd., commented; "We're very excited that Cover Up are the first company in Ireland to install an MTEX 5032. Cover Up has a deep understanding of the market and this sale further demonstrates the growth in demand for textile printing."
The Cover Up team is now looking to enter the export market and working with companies outside of Ireland. "We can now produce the larger exhibition panels from start to finish under the one roof, and exporting fabric is easier, cheaper and more reliable as you can fold it up rather than having to keep it flat," said Byrne.
"We've seen the industry picking up over the last two or three years, and we're feeling very confident in growth for the future."
For more information about MTEX go to www.mtex.eu or for more information on Cover Up go to www.coverup.ie
Follow us on Twitter - @DigiPrintNews
Like us on Facebook www.facebook.com/DPNLive - (click the 'LIKED' button/top of page as well)
Copyright © 2014, DPNLIVE – All Rights Reserved.
cover up logo