Ricoh launches A3 black-and-white multifunctionals with advanced tools for increased office productivity.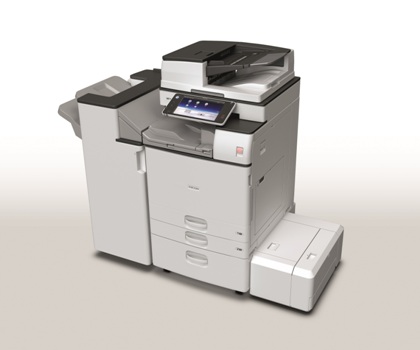 Ricoh MP 2554SPRicoh has launched the MP 2554SP/3054SP/3554SP Series of A3 black-and-white multifunctionals for heavy workloads in mid- to large-sized offices. The new printers form part of a larger range of Ricoh black-and-white multifunctionals that won the Buyers Laboratory LLC (BLI) 2015 A3 MFP Line of the Year Award. Ranging in speed from 25 to 60 ppm, the new devices print and copy in black & white and scan in full colour, and offer fax as an option. These new printers are being launched and made available in Ireland from April 30th.
"The MP 2554SP/3054SP/3554SP multifunctionals will significantly increase productivity in today's fast-paced offices," says Gary Hopwood, general manager, Ricoh Ireland. "They can be used as an information portal and connected to cloud services directly from their operation panel. They enable monitoring of user activity, energy consumption and operating costs, and can be added to a Ricoh Managed Document Services (MDS) approach to reduce costs."
The new multifunctionals offer the latest Ricoh 10.1-inch smart operation panel which features easy touch and swipe operation similar to smart devices, enabling complex jobs to be managed quickly and efficiently. The familiar drag-and-drop can be used to rearrange icons on the home screen, allowing access to frequently used tasks with a single touch.
The devices recover from sleep mode in only 5 seconds and print up to 60 black & white pages per minute on a wide range of media. They scan up to 80 colour or black & white images per minute using the 100-sheet Automatic Reversing Document Feeder (ARDF). An even faster option is the 220-sheet Single Pass Duplex Feeder, which scans at up to 180 ipm.
They come with an advanced user authentication to help prevent unauthorised access to documents. These are stored at the device until an authorised ID card is swiped or a passcode is entered at the MFP. For additional protection, encrypted PDF transmission scrambles data on confidential PDFs.
The standard 2x 550-sheet paper trays can be supplemented by additional paper trays to increase paper capacity up to 4,700 sheets for uninterrupted runs. Several finishers are available, including the 250-sheet internal stapleless finisher, which received the BLI award for 'Outstanding Achievement in Innovation.' It binds up to five sheets of paper with no staples, lowering supply costs and expediting future paper recycling.
Energy costs and consequent environmental impact are reduced through their low Typical Electricity Consumption (TEC) values, as part of Ricoh's commitment to driving sustainability for our future.
This new range of printers will be available directly from Ricoh Ireland and also through Ricoh's channel partners throughout Ireland.
For further information, please visit www.ricoh.ie
You can Tweet, Like us on Facebook, Share, Google+, Pinit, print and email from the top of this article.