Quality, colour vibrancy and easy to use were the three deciding factors.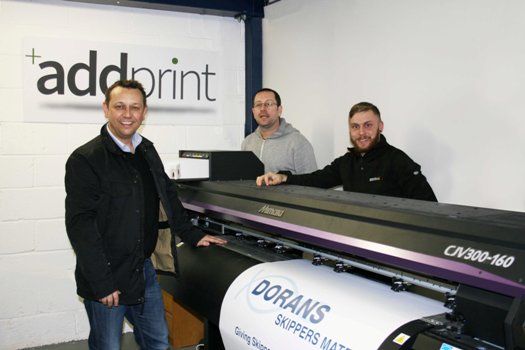 Robert Doyle, Declan Conroy and Andy Preston from AddPrint Ltd with the Mimaki CJV300-160.At the recent Irish Print Awards, Dublin based Addprint Ltd lifted the prize to win the Luxury Packaging Printer of the Year award for its cosmetic beauty box project for Bourjois Paris. The job was printed on its recently installed Mimaki CJV300 printer/cutter.
Addprint Ltd is a company that has gained a reputation for excellence in the cosmetic PoS market and the accolade it received at the Irish Print Awards is a testament and reward for its outstanding print performance. The cosmetic beauty box that was produced for Bourjois Paris was created by printing the exterior of the box with its recently acquired Mimaki CJV300-160 printer-cutter.
Managing Director, Robert Doyle explained the reason for the investment;
"Our choice to invest in the Mimaki CJV300 was threefold. The quality of the print is exceptional and we need that guarantee because a large amount of the work we do is close-up Point of Sale displays. The CJV300 also gives us great colour vibrancy and the colour matching from one print to another is superb which is crucial for the bright colour consistency required with cosmetic brands. We also wanted a printer that was easy to use. Our previous solvent printer required two people to load & unload but the new Mimaki CJV300 is a one man job and we can leave it unattended, which makes great business sense."
The machine was supplied by authorised Mimaki reseller Reprocentre, who were also involved in the Irish Print Awards through sponsorship of one of the categories. Sales Director Eoin Honan explained;
The Mimaki CJV300 high performance integrated print and cut solvent printer."We think it's important to celebrate and support the printing industry in Ireland and have been sponsors of the Large Format Digital Printer of the Year award for some time now, so we were delighted that one of our own customers had won an award; it's well deserved and Addprint has produced some impressive stuff."
Notwithstanding winning an Irish Print Award, there is also a new buzz of excitement within the ranks at Addprint;
"We'll shortly be moving to a new 'Digital Print House'," revealed Doyle. "We've been working on our new premises since last year and soon we'll be able to showcase the many fantastic Point of Sale materials and products we can supply. It's an exciting time for the company."
Further information about Addprint is available via its website www.addprint.ie and its Twitter account @addprint_ie.
Further information about Reprocentre and its products and services can be found at www.reprocentre.ie.
Full details of Mimaki's product portfolio is also available via its Irish and UK distributor, Hybrid Services Ltd at www.hybridservices.co.uk.